By Mike Stines, Ph.B.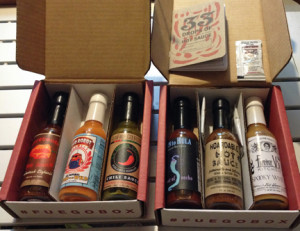 You enjoy hot sauces from mild to wild but can't always find something new to try. Fuego Box has a solution for you. The California-based company offers a subscription that provides a variety of different hot sauces to try. Most of the sauces are small batch concoctions so you won't receive sauces usually found on supermarket shelves.
"Fuego Box has scoured the Earth looking for the perfect craft and small-batch hot sauces for our boxes. We do not focus on insane heat or gimmicky sauces; we focus on dynamic taste accompanied by the appropriate amount of heat. Our goal is to deliver you the best hot sauces that you've probably never heard of," says founder Mike McAdams.
Fuego Box, founded in 2015, has a few options. You can subscribe to a monthly shipment of three sauces for $29.95; a monthly subscription for one sauce at $12.95 or a quarterly subscription for three sauces at $29.95. All of the prices include shipping throughout the U.S. although shipping is additional for the single bottle per month option unless the subscription is pre-paid for one year.
"I emailed a bunch of small companies asking for samples and even bought a bunch of samples myself when I didn't hear back for some companies," McAdams says. "Once I had about 100 sauces, I had my first hot sauce tasty party. I had a house full of people tasting and ranking hot sauces (on a specialized one to five scale). From there, I put together our first few boxes consisting of some of the most insanely delicious sauces I'd ever tasted."
I received the Fuego "welcome box" along with a "monthly" box. The welcome box contained three sauces: Frankie V's Spooky White, a habanero-based sauce; Born to Hula Ghost of Ancho, featuring smoked Bhut Jolokia peppers and habanero ancho sauce; Hoardable Hot Sauce containing ghost peppers and a journal "33 Drops of Hot Sauce" to record impressions of the sauces. (Also included were three packets of "Palo Alto Firefighters" pepper sauce.)
The monthly box had Horsetooth Smokestack Lightning, a sauce with smoked chipotle pepper and cayenne with fresh garlic; Red Robot Corn to be Wild, a jalapeño-based sauce with whole kernel corn; and Seafire Gourmet La Diosa Verde, a sauce with serrano and Poblano chiles, shallots, cilantro and lime juice.
"Fuego Box is a hot sauce of the month club focused on discovering the tastiest craft and small-batch hot sauces," McAdams explains. "We have personally tested thousands of products looking for the perfect hot sauces you've probably never heard of. We always avoid insane heat, gimmicky labeling and extract-based sauces. Our focus is on dynamic flavor accompanied by the appropriate amount of heat."
If you like hot sauces and want to taste sauces that may not be available in your supermarket, Fuego Box is a good choice and it's also a great gift item for your friends with a hot sauce obsession.
(Mike serves as our BBQ, Grilling and Gadgets editor. He has a yard full of cooking hardware – a couple of WSM smokers, two propane-fired grills, a Grill Dome Infinity XL ceramic cooker, a pellet cooker and a multitude of diverse cooking equipment. His garage has no room for a car… it's filled with more cooking gear, numerous accessories, cases of wood chips and bags of pellets. His third cookbook Mastering Barbecue is published by Random House.)
The following two tabs change content below.
Publisher | Christened the "Pope of Peppers" by The New York Times, Dave DeWitt is a food historian and one of the foremost authorities in the world on chile peppers, spices, and spicy foods.
Latest posts by Dave DeWitt (see all)