By Mike Stines, Ph.B.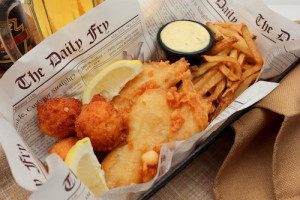 Fish and Chips are traditional British fare served up in pubs throughout the United Kingdom and from street vendors – especially near the Thames in London. But you don't need to fly across the pond to enjoy fish and chips… it's easy to make at home. All you need is fresh fish, a pot of hot oil and a spiced beer batter to make a crispy coating. Although you could make your own chips, I cheat and use commercial pub-style (thick cut) potatoes instead of making my own. Homemade tartar sauce is a nice addition along with Cole slaw.
1 1/2 pounds firm white fish (haddock, cod or similar)
Oil, about three cups, for deep-frying
Cornstarch, for dredging
For the batter:
1 1/2 cups all-purpose flour
1 tablespoon malt vinegar
2 teaspoons baking powder
1 1/2 teaspoons Cajun spice
1 teaspoon Old Bay seasoning
1/2 teaspoon coarse kosher salt
1/2 teaspoon garlic powder
1/2 teaspoon freshly ground black pepper
1/4 teaspoon cayenne pepper
2 cups brown ale (Newcastle is a good choice)
Prepare the batter by thoroughly combining all of the dry ingredients in a medium mixing bowl. Whisk in the beer and vinegar; mix until smooth. (Newcastle comes in one pint bottles so you'll have some for the cook's share.) Refrigerate the batter for an hour. Heat the oven to 250 degrees F. Heat the oil in a Dutch oven or deep skillet to 375 degrees F. (I use a ChefAlarm to monitor the temperature.) It is important that the oil is hot so the batter becomes crisp and not soggy. Be sure the oil returns to temperature before adding a second batch of fish. Cut the fish into three- or four-ounce portions.
Place the cornstarch in a shallow plate and dredge the fish in the cornstarch. Shake off any excess cornstarch from the fish fillets and dip in the batter. Using tongs, remove the fish from the batter drain any excess batter from the fillets.
Carefully put the fish into the hot oil and cook about five minutes, turning occasionally, until the fish reaches an internal temperature of 140 degrees F. Transfer the cooked fillets to a warm oven and hold while cooking the remaining fish. Serve with tartar sauce and lemon wedges. Vinegar-dressed Cole slaw is a nice side dish.
Yield: Three to four servings Heat Scale: Mild
Tartar Sauce
1/2 cup good-quality mayonnaise (I use Hellman's or Best Foods)
1 tablespoon fresh lemon juice
1 tablespoon drained and rinsed capers, finely chopped
1 tablespoon Worcestershire sauce
1 tablespoon Dijon-style mustard
1 1/2 teaspoons sweet relish
1 1/2 teaspoons finely minced yellow onion
1 tablespoon chopped fresh tarragon or 1 teaspoon dried
Whisk the ingredients together in a medium mixing bowl. Cover and refrigerate for at least one hour before serving. (The sauce will keep, covered and refrigerated, for one week.)
Yield: about 2/3 cup
Heat Scale: Mild
(Mike serves as our BBQ, Grilling and Gadgets editor. He has a yard full of cooking hardware – a couple of WSM smokers, two propane-fired grills, a Grill Dome Infinity XL ceramic cooker, a Yoder YS-640 pellet cooker and a bevy of miscellaneous cooking hardware. His garage has no room for a car… it's filled with more cooking gear, various accessories, cases of wood chips and bags of pellets. His third cookbook is Mastering Barbecue, published by Random House.)
The following two tabs change content below.
Publisher | Christened the "Pope of Peppers" by The New York Times, Dave DeWitt is a food historian and one of the foremost authorities in the world on chile peppers, spices, and spicy foods.
Latest posts by Dave DeWitt (see all)