By Mike Stines, Ph.B.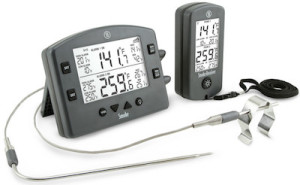 ThermoWorks, the Utah-based manufacturer of quality thermometers for industrial, commercial and home use, has introduced Smoke, a two-channel wireless (RF) thermometer with a line-of-sight range of about 300 feet. The two temperature probes provided with the unit are designed to monitor pit and meat temperatures although the probes can be changed to have two meat monitors. The company plans to offer a WiFi bridge in the spring of 2017 for $89 allowing Smoke to connect with a variety of wireless devices including tablets and smart phones.
I have several ThermoWorks products… the most noteworthy are the ThermaPen Mk4 and the ChefAlarm that I regularly use. They are invaluable for monitoring cooking temperatures whether in a competition pit, your backyard or your oven. I like the ThermaPen so much I purchased a half dozen for my restaurant cooks. The new Smoke uses the same probes as the ChefAlarm so the probes are interchangeable, in fact any Pro-Series® probes are useable with Smoke … a nice feature since many remote-reading thermometers use probes that are not compatible with other units (often the same model from the same manufacturer uses different probes which in inconvenient to say the least as you have to keep track of which probe goes with which unit). Unlike the ChefAlarm, Smoke does not have a built-in timer but it does feature high and low temperature alarms for both meat and pit temperatures.
While Smoke is water-resistant, it is not water-proof and needs to be protected during heavy rain or snow storms (I've found a resealable plastic bag works well). There is no set-up required. Smoke comes paired with the receiver and includes the required AA batteries to operate the base unit and the receiver. At $99, Smoke includes the base unit, Pro-Series® High Temp Cooking Probe, Pro-Series® High-Temp Air Probe and Grate Clip, Wireless Smoke Receiver with a lanyard and operating instructions. Alternate probes are available from $16 to $21 depending on the model. Additional receivers are also available. As a lagniappe, ThermoWorks includes a 1/3-ounce packet of Jelly Bellies… a tasty blend of various jelly beans. If you're a serious BBQ competitor or an ardent cook, Smoke is a nice tool to add to your arsenal of cooking equipment.
(Mike serves as our BBQ, Grilling and Gadgets editor. He has a yard full of cooking hardware – a couple of WSM smokers, two propane-fired grills, a Grill Dome Infinity XL ceramic cooker, a Yoder YS-640 pellet cooker and a bevy of miscellaneous cooking hardware. His garage has no room for a car… it's filled with more cooking gear, various accessories, cases of wood chips and bags of pellets. His third cookbook is Mastering Barbecue, published by Random House.)
The following two tabs change content below.
Publisher | Christened the "Pope of Peppers" by The New York Times, Dave DeWitt is a food historian and one of the foremost authorities in the world on chile peppers, spices, and spicy foods.
Latest posts by Dave DeWitt (see all)