By Mike Stines, Ph.B.
Occasionally, we head out to our favorite Chinese restaurant and order some take-out to enjoy in the comfort of our home. By the time we're home, the once-crispy food is soggy and barely warm so it hits the microwave and gets even soggier. And you ask yourself – again – why do take-out? Great Chinese food can be prepared at home and the results are so much better and less expensive than take-out.
Unlike many Chinese recipes that require a lot of prep work, here's a recipe to do at home with minimal prep work. It's a bit spicy and very tasty. You'll never get Crispy Beef take-out again! (This recipe is adapted from America's Test Kitchen.)
Crispy Orange Beef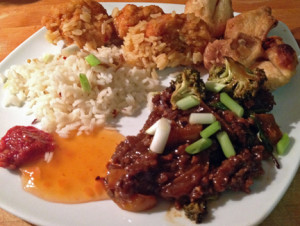 This deep-fried beef has a sticky-sweet orange sauce, bell peppers and broccoli that make a great entrée. Serve with steamed rice.
1 (1- to 1 1/2-pound) top round or sirloin steak
1/4 cup reduced sodium soy sauce, divided
1 to 2 tablespoons Sriracha sauce (depending on heat tolerance)
1/3 cup cornstarch
2 cups broccoli florets
1 bell pepper, seeded and sliced lengthwise
1 medium naval orange
3 tablespoons dark molasses
1 tablespoon rice wine vinegar
1 1/2 teaspoons toasted sesame oil
3 cloves garlic, minced (about 1 1/2 teaspoons)
2 teaspoons freshly grated ginger (or 3/4 teaspoon dried ginger)
1/2 to 1 teaspoon crushed red pepper (depending on heat tolerance)
2 scallions cleaned and diagonally sliced, for garnish
Toasted sesame seeds, for garnish
1/4 cup sliced orange zest, for garnish
Cooking oil
Partially freeze the beef for about an hour to make slicing easier. Slice the beef across the grain into 1/4-inch by two-inch pieces. Place the beef in a non-reactive bowl and add two tablespoons of the soy sauce and the Sriracha. Stir to combine. Allow the beef to marinate for at least one hour or up to four hours. Drain the beef and dust with cornstarch. Stir well to completely coat the beef.
Add about three cups of oil to a large deep skillet and heat to 375 degrees F.
Peel strips of zest from the orange and julienne (allumette) lengthwise. Juice the orange through a small strainer into a bowl and measure out one cup of juice for the sauce (add bottled orange juice if necessary). Reserve any remaining juice in case the sauce needs to be thinned. Add the remaining two tablespoons of soy sauce, molasses, rice vinegar and sesame oil to the bowl. Whisk well to combine.
When the oil reaches temperature, add the beef in batches and stir-fry until golden brown and barely cooked, about two minutes. Remove the beef with a spider or slotted spoon and transfer to a paper-lined plate to drain. (Be sure the oil returns to temperature before adding more beef.) Continue cooking until all the beef is done.
Drain the oil from the skillet and discard. Return the skillet to the heat. Add the garlic, ginger and crushed red pepper. Chow briefly until the garlic and ginger are aromatic, about two minutes. Add the vegetables. Cook for about three to four minutes or until the vegetables are barely crisp-tender. Add the prepared sauce and about 1/3 cup sliced orange zest. Simmer until the sauce is reduced by about one-half. Add the reserved beef and stir. Cook until the beef is thoroughly warmed and nicely glazed with the sauce. (If the sauce gets too thick, add some of the reserved orange juice.)
Spoon the beef and vegetables onto warmed serving plates. Garnish with sliced scallions, orange zest and toasted sesame seeds, if desired. Serve with steamed rice.
Serves: Two, generously
Heat factor: Medium
(Mike serves as our BBQ, Grilling and Gadgets editor. He has a yard full of cooking hardware – a couple of WSM smokers, two propane-fired grills, a Grill Dome Infinity XL ceramic cooker, a Yoder YS-640 pellet cooker and a bevy of miscellaneous cooking hardware. His garage has no room for a car… it's filled with more cooking gear, various accessories, cases of wood chips and bags of pellets. His third cookbook is Mastering Barbecue, published by Random House.)
The following two tabs change content below.
Publisher | Christened the "Pope of Peppers" by The New York Times, Dave DeWitt is a food historian and one of the foremost authorities in the world on chile peppers, spices, and spicy foods.
Latest posts by Dave DeWitt (see all)