From the article "A Chile-Blessed Christmas Around the World" comes this traditional holiday side dish from Jamaica, Rice and Peas.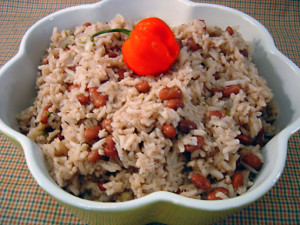 Nancy Gerlach writes: In Jamaica, Christmas carols are sung to a reggae beat and, in the small villages, Santa arrives riding in a cart pulled by a donkey, not a reindeer. A typical holiday feast would consist of curried goat, oxtails, and rice'n' peas. Rice and peas (or beans) is a popular dish on many of the Caribbean islands. Maybe its popularity is due from the fact that rice helps tame the burn of chiles, although this version of the dish is not tame. The peas used are called pigeon peas and are about the size of garden peas and are available dried or in cans. Kidney, or red beans are also used in this dish, but during the Christmas season, only the gungo or pigeon are served in Jamaica.
Course: Side Dish
Cuisine: Caribbean
Heat Scale: Hot
Servings: 6
Ingredients:
1/2 cup dried pigeon peas washed and picked over, or 1 8-ounce can pigeon peas, drained and liquid reserved
1 Scotch bonnet or habanero chile, stems and seeds removed, minced
2 cloves garlic minced
1 onion chopped
2 tbsp vegetable oil
2 cups rice
1 cup coconut milk
1 tsp dried thyme
3 green onions chopped including some of the greens
Instructions:
If using dried peas, place them in a large saucepan and add water to cover. Bring the mixture to a boil, reduce the heat and cook until the peas are tender, about 30 minutes.
Heat the oil in a heavy skillet over medium high, add the garlic, chile, and onion and saute until soft. Add the rice and continue to saute until the rice browns slightly. Stir the peas into the rice.
In a large saucepan, combine the coconut milk with 3 cups of the reserved bean liquid. (If you do not have enough bean liquid, add water to make up the difference.) Bring to a boil and add the rice mixture. Bring the liquid back to a boil and immediately reduce the heat to low. Cover and simmer until the liquid is absorbed and the rice is tender, about 20 to 25 minutes.
Fluff the rice with a fork, stir in the green onions, and serve.
The following two tabs change content below.
Publisher | Christened the "Pope of Peppers" by The New York Times, Dave DeWitt is a food historian and one of the foremost authorities in the world on chile peppers, spices, and spicy foods.
Latest posts by Dave DeWitt (see all)