From the article "Christmas Eve Dishes from New Mexico" by Nancy Gerlach comes this easy-to-make appetizer recipe:
Green Chile Tortilla Pinwheels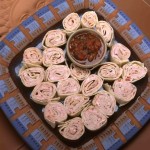 These are very popular appetizers New Mexico and are served at just about every holiday party. A number of fillings can be used, but green chile cream cheese is by far the most favored. This is an all-purpose filling that goes well on crackers, as a dip with chips or vegetable crudities, as well as on tortillas. For those watching their fat intake, substitute light cream cheese or Neufchatel cheese. It is important to tightly roll and refrigerate the rolls or they won't stay together after they are sliced.
Course:Appetizer / Hors d'oeuvre
Cuisine: New Mexican
Heat Scale: Mild to Medium
Cooking with Chiles at the Holidays
Servings: 2 to 3 dozen
Ingredients:
1/2 cup chopped New Mexico green chile
1 8-ounce package cream cheese
1/2 tsp garlic salt
2 tsp chopped cilantro optional
3-4 flour tortillas
Servings:2
Instructions:
Combine all the ingredients, except the tortillas, in a bowl and mix well.
Spread the filling on the tortillas, sprinkle the cilantro over the top, and roll the tortilla in a jelly-roll fashion and tightly wrap in plastic wrap. Repeat with the remaining tortillas.
Place the tortillas in the refrigerator for at least 2 to 3 hours. Just before serving, unwrap the tortilla rolls and slice into 6 to 8 pieces.
The following two tabs change content below.
Publisher | Christened the "Pope of Peppers" by The New York Times, Dave DeWitt is a food historian and one of the foremost authorities in the world on chile peppers, spices, and spicy foods.
Latest posts by Dave DeWitt (see all)