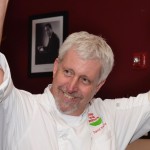 Dave began his culinary career twenty years ago, while living in New Hampshire and completing a B.A in Philosophy from Plymouth State University. Dave started as a baker in an all-organic bakery where he developed a deep appreciation for sustainable, local, from-scratch cooking. These pillars became the basis of his cooking philosophy. Dave moved on to cook in San Francisco and then Santa Fe, where he spent ten years as chef of the venerable Santacafé. Dave then opened his own restaurant, Amavi, to critical acclaim, where both the cuisine and the wine focused on the Mediterranean region. Most recently Dave turned his culinary exploration to New England where he spent four years as the chef of Maxfish, delving deeply into the world of fish and farm-to-table dining. Regional cuisine and teaching have always been a top priority for Dave. He has traveled extensively in both Europe and the Far East researching local cuisines.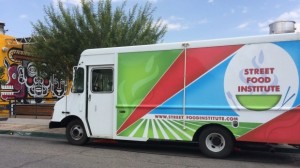 Dave's latest project is the Street Food Institute (SFI), an entrepreneur-focused culinary program dedicated to inspiring the success of small, local businesses in New Mexico. SFI supports the development of small business by growing the state's local food economy and developing strong future business leaders. SFI trains its emerging business leaders to employ sustainable business practices that support local farmers, entrepreneurs, and families. SFI believes that food has an amazing capacity to connect people. SFI is part of an evolving food culture that seeks to provide increased choices of nourishing and affordable food that are not only tasty, but also build community. SFI students begin with hands-on training at SFI Food Trucks, where they learn how to make delicious and healthy food using sustainable business practices. Students are then encouraged to employ their skills in the community to innovate their own small businesses that provide more choices for nourishing, affordable local food. By raising the bar for street food, developing local culinarians, and building a robust and active community around local food, SFI seeks to make New Mexico a culinary destination.
The following two tabs change content below.
Publisher | Christened the "Pope of Peppers" by The New York Times, Dave DeWitt is a food historian and one of the foremost authorities in the world on chile peppers, spices, and spicy foods.
Latest posts by Dave DeWitt (see all)