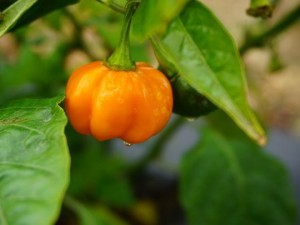 In our recent book, The Field Guide to Peppers, Janie Lamson and I listed thirteen habanero varieties, but apparently that's not enough. Researchers at Rutgers University have developed a new variety of habanero that grows well in New Jersey's climate and has a broad appeal, both to the general market and the state's growing Latino, Chinese, and Indian communities. It is called the 'Pumpkin Habanero'. "The skin is crunchy and sweet – really nice," said Albert Ayeni, a pepper expert who oversees Rutgers' exotic pepper research. "The flavor is close to tangerine. The skin is almost free of heat – the heat is only in the placenta," which runs down the middle of the inside of the fruit where the seeds are attached. The Rutgers researchers collected seeds from an array of habanero plants grown by farmers across the state, including some Mexican and African varieties, and cultivated the seeds next to each other so the plants could cross-pollinate and generate new varieties, Ayeni said.
"Instead of trying to compete with larger states on interchangeable commodities, we want to provide new varieties that are valued by consumers rather than appeal to growers and processors," said Rutgers plant biologist Tom Orton. "Most breeding programs instead aim for varieties that provide benefits to farmers and producers, such as high-yield, disease resistance, and uniformity of shape," he said. "Flavor is more difficult to measure and there has not been a premium put on it by growers or processors." The researchers did not release a precise heat level for the 'Pumpkin Habanero', preferring to state that it has "some bite but is not too hot," whatever that means.
The following two tabs change content below.
Publisher | Christened the "Pope of Peppers" by The New York Times, Dave DeWitt is a food historian and one of the foremost authorities in the world on chile peppers, spices, and spicy foods.
Latest posts by Dave DeWitt (see all)