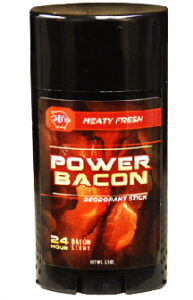 The manufacturer's description: "POWER BACON deodorant is designed specifically for those with active lifestyles – or people who just sweat like pigs. Using POWER BACON will probably make everyone drawn to you like you were the most powerful magnet on Earth. And by everyone, we mean friends, acquaintances, beautiful strangers, dogs, bears, swamp alligators, lions and even pigs. It's like an aphrodisiac for your armpits. But use your new power wisely, because with great bacon power comes great baconsibility. For all day meat-scented protection, apply liberally to your underarms or private areas. Do not eat or hike in the woods without a firearm while wearing POWER BACON." You can attempt to buy this here.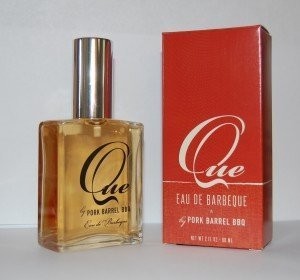 And now, a review of another strange product: "I bought a bottle as my joke gift to my husband last Christmas. It's just like a the smell of barbecue on a Summer day. Be careful though, if you usually sprizz two or three shots of your perfume do NOT do that with Que. One spritz lasts all day and all night. My husband wore it to church yesterday and hungry people were following him around wanting to know what he'd been cooking." And you can attempt to buy this scent here.
The following two tabs change content below.
Publisher | Christened the "Pope of Peppers" by The New York Times, Dave DeWitt is a food historian and one of the foremost authorities in the world on chile peppers, spices, and spicy foods.
Latest posts by Dave DeWitt (see all)