The quick rise and success of sriracha sauce surprised the fiery foods industry, especially because it was a type or style of sauce rather than a brand. There's no doubt that Huy Fong Foods led the sales of the sauce, but now all major manufacturers and retailers, including Trader Joe's, have their own version of the simple sauce.
"The desire for foods with a spicy component is continuing, but the preferences are becoming more refined," said Lacey Eckert, market development specialist with Kalsec, Inc., Kalamazoo, Mich. "It's not just about how hot something is. Consumers want specificity, authenticity and nuance of the flavor profile. Food manufacturers have to keep it interesting."
When consumers dine out they want to see hot, garlic, and spicy flavors and foods on menus, according to the market research company The NPD Group, Chicago. Data from NPD's SupplyTrack service, which tracks products shipped from broadline distributors to food service customers, show that dollar sales of all spices and seasonings increased 7% versus year ago in the year ended March 31, 2017. Among the top growing spices and seasonings being shipped were curries, examples of which are tikka masala and yellow curry, which grew by 11%, and chili peppers, like aleppo and habanero, which grew by 12%. None of these flavors are tied to a specific brand.
Roger Lane, marketing manager of savory flavors for Sensient Flavors, based in Hoffman Estates, Ill., noted that consumer interest in global cuisines is being driven by younger consumers, specifically millennials and the emerging Gen Z population.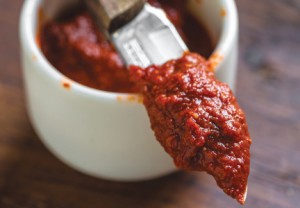 "Members of Gen Z have grown up in a world that has always been connected and multicultural so, for them, there is no such thing as ethnic cuisine," Lane said. "It's just 'cuisine.'" They're also much more adventurous in their choices and crave uniqueness. He added that a variety of chilies are starting to appear on restaurant menus throughout the United States, including aji panca from Peru, cascabel from Mexico, urfa chile from Turkey, and green chile from New Mexico.
"Each of these chilies has a unique flavor profile so it's difficult to say how each of them work in combination with other ingredients as a whole, but typically adding a creamy or cheesy note works well to temper the heat or adding a sweet note to balance their harsher notes works well," Mr. Lane said. Scott Walnofer, senior director of culinary for Kerry, Beloit, Wis., said, "The rise in the use of specialty peppers is playing a big role in the new generation of dressings, marinades, and sauces. Many of these peppers impart actual flavor rather than just heat such as the guajillo chili, which has dark berry notes, the chocolate habanero, which has citrus fruit notes, and the ají pepper, which has a sweet flavor profile somewhere between a cooked mango and an apricot."
The sauces that might follow the same path as sriracha are:
Harissa, a hot chile paste from North Africa, shown above.
Gochujang, a Korean chile sauce with garlic, fish sauce, and chives.
Sambal, a chile sauce from Indonesia and Malaysia with brown sugar and sometimes nuts, garlic, or coconut milk.
Zhug, a Middle Eastern chile sauce with jalapeños, garlic, and cilantro, shown below
Experts do not agree on which sauce might follow sriracha, but one thing is certain: What will continue to drive the spicy flavor trend is sustained consumer interest in new food experiences. The NPD Group said the trend will be buoyed by the fact that 75% of U.S. adults, especially young adults, are open to trying new foods.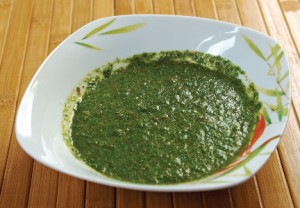 The following two tabs change content below.
Publisher | Christened the "Pope of Peppers" by The New York Times, Dave DeWitt is a food historian and one of the foremost authorities in the world on chile peppers, spices, and spicy foods.
Latest posts by Dave DeWitt (see all)