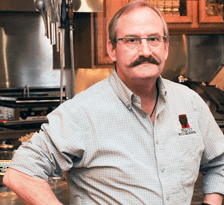 Chef Tim Ziegler will conduct a spice demo at the 30th National Fiery Foods & Barbecue Show at Sandia Resort and Casino, March 3 and 4. Chef Ziegler ("Chef Zieg") is The Chef Behind the Chefs. For more than 25 years, Chef Zieg has immersed himself in the world of spices and, as a result, is now the go-to expert among restaurant chefs seeking proprietary flavor blends as well as culinary organizations seeking memorable "eatertainment." The American Kitchen SPICES Print Series, which he co-created, is often the subject of his talks. Today, Chef Zieg is the Spice Master & Blender for Italco Food Products' Gran Cucina™ Spice Division. Here, Chef Zieg oversees product development and over $1 million in annual spice sales.
He is also a member of the International Food Technologists and the Research Chef's Association and spends a great deal of time volunteering for various non-profit organizations in the Denver area. He lives in Broomfield, Colorado, with his wife, Margaret, and enjoys spending his free time with his four children and one grandchild.
Chef Zieg will present his spice demonstration at noon in the Eagle Room on Saturday and Sunday.
The following two tabs change content below.
Publisher | Christened the "Pope of Peppers" by The New York Times, Dave DeWitt is a food historian and one of the foremost authorities in the world on chile peppers, spices, and spicy foods.
Latest posts by Dave DeWitt (see all)