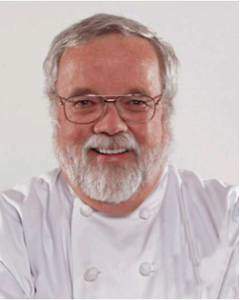 Rick conceived of, created and was the Editor-in-Chief of Barbecue America Magazine, the nation's first and only national magazine devoted to barbecue, grilling, outdoor cooking, barbecue competitions and the barbecue industry.
He was also the creator, host, and executive producer of public television's popular Barbecue America TV series (described as the first cooking and travelogue series highlighting America's and the world's outdoor bbq & grilling culinary landscape), which, in its seventh season, was aired on more than 230 public TV stations nationwide. He has also conceived, co-produced and hosted two seasons of the Outdoor Channel's cooking and travel show: "Ready, Aim…Grill."
Rick's most-recent book A Century of Restaurants, profiles 100 of the oldest restaurants in America, each between 100-300 yrs. old, was released in late 2013. Rick personally visited all 100 historic eateries in 46 states, a two-year journey of over 64,000 miles. Previously he has authored 16 best-selling cookbooks about barbecue, grilling, outdoor deep-frying, and smoking. Currently he has been asked to update his Frequent Fryer Cookbook for Lyons Press, and is writing a grilling cookbook for a Korean portable grill company, and his 1,001 Best Grilling Recipes was just released in an updated and re-designed 2nd edition.
As one of only 26 people in the country with a Ph.B. from the Kansas City Barbecue Society, has been a caterer for over two decades, specializing in barbecue and grilling, providing catering services and gourmet meals for over a dozen local and national charities, proving meals for 10-200 which people bid on and purchase at charity fundraising auctions.
Rick created, Produced and hosted 91 episodes (for seven seasons) of BARBECUE AMERICA, a popular 13 part cooking and travel series which aired from 2003-2009 nationally on 230 PBS stations. In the series he traveled around the US in pursuit of "America's best barbecue." The last two years of the series involved travel and taping shows in 26 countries.
Rick will be giving smoking and grilling demos on the Eagle Room Patio Saturday and Sunday afternoons, March 3 & 4.
The following two tabs change content below.
Publisher | Christened the "Pope of Peppers" by The New York Times, Dave DeWitt is a food historian and one of the foremost authorities in the world on chile peppers, spices, and spicy foods.
Latest posts by Dave DeWitt (see all)