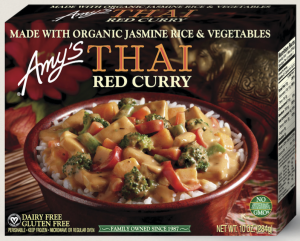 Yes, amazingly enough. With my wife Mary Jane in in-patient rehab for a partial right hip replacement, I'm on my own for foraging food. It's difficult enough to cook for two people, much less one. So I went to Whole Foods and checked out their frozen entrees and decided to try this one. I microwaved it and served it slathered with Sriracha sauce. It was great! I rated it a B+. Here's what Amy's website says about it: "We make our own curry paste from scratch because that makes all the difference. Then we make smooth, coconut milk-based curry sauce and toss in organic onions, broccoli, carrots, tofu and delightfully sweet butternut squash. Fragrant jasmine rice completes the meal. Gluten free/dairy free/lactose free/vegan/kosher. The price at Whole Foods was $4.99. Next I'll try their Asian Noodle Stir Fry.
The following two tabs change content below.
Publisher | Christened the "Pope of Peppers" by The New York Times, Dave DeWitt is a food historian and one of the foremost authorities in the world on chile peppers, spices, and spicy foods.
Latest posts by Dave DeWitt (see all)