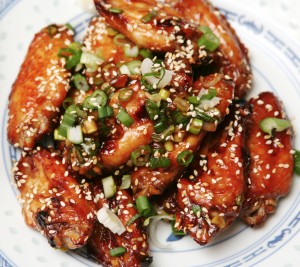 Rick will be demoing this recipe at our upcoming show!
Spicy Peanut Butter Chicken Wings
Yield: 8–10 servings
Chunky or smooth? Your choice. You could also use cashew, almond, or any other nut butter in this recipe.
50 chicken wings
2 (12-ounce [355-mL]) bottles beer
1 cup (236 mL) molasses
1/2 cup (118 mL) smooth peanut CASHEW butter
1/2 cup (118 mL) fresh lemon juice
1/2 cup (118 mL) Worcestershire sauce
1/4 cup (59 mL) prepared mustard
2 tablespoons (30 mL) Ancho chili powder
1 teaspoon (5 mL) salt
1/4 cup (59 mL) chopped green onions, for garnish
White or black sesame seeds, for garnish
Preheat the barbecue to high (400°F [200°C] to 450°F [240°C]).
Remove and discard the tips from the wings and cut each wing in half at the joint. In a large saucepan, combine the beer, molasses, peanut butter, lemon juice, Worcestershire sauce, mustard, chili powder, and salt. Cook over low heat for about 15 minutes, or until the sauce is reduced and thickened to the consistency of thick gravy.
Place the wings in a large roasting pan and cover them with the 
sauce. Turn until each wing is well coated. Bake in the barbecue for 15 to 20 minutes.
Serve the wings on a large platter, garnish with green onions.
The following two tabs change content below.
Publisher | Christened the "Pope of Peppers" by The New York Times, Dave DeWitt is a food historian and one of the foremost authorities in the world on chile peppers, spices, and spicy foods.
Latest posts by Dave DeWitt (see all)