George Dickel Tennessee Whisky and McIlhenny Company's TABASCO Brand Pepper Sauce have gone the Reese's Peanut Butter Cup route. No, they're not offering special Christmas tree-shaped bottles of their product for the holidays later this year. Although if they did, I'd buy one. Their collaboration is more blendy than trendy. With George Dickel TABASCO Brand Barrel Finish available in stores this May, these two iconic brands are meeting together in one bottle.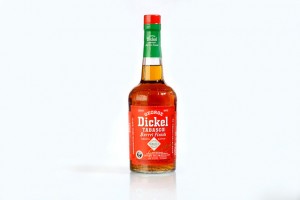 Finished in barrels used to age tabasco peppers for three years, George Dickel TABASCO Brand Barrel Finish has a spicy vibe to it. George Dickel takes its Tennessee whisky and rests it in these barrels for 30 days, allowing the spice and flavor imparted in the wood from the tabasco peppers to add its unique finish to the whisky. TABASCO Brand Pepper Sauce is then distilled to create an essence, which is carefully blended together with the whisky to create George Dickel TABASCO Brand Barrel Finish. The result is a spicy shot, which recently won a Gold Medal at the 2018 San Francisco World Spirits Competition.
"George Dickel Tennessee Whisky and TABASCO are two of the most iconic brands the South has to offer for a reason – the craftsmanship that goes into creating these products is the real deal," said Jeff Parrott, Director of American Whisk(e)y Development at Diageo. "Both brands have such a rich history, and we're proud to collaborate with our friends at McIlhenny Company to marry their unique flavor with our quality Tennessee whisky."
Hitting shelves nationwide in May, George Dickel TABASCO Brand Barrel Finish carries a suggested retail price of $24.99 for a 750 mL bottle and is also available in 50 mL and 1L sizes. The alcohol by volume is 35% (70 proof). Like the rest of George Dickel Tennessee Whisky brand's offerings, this shot is meant to be enjoyed responsibly.
If you're pressed for spicy cocktail ideas, get inspiration from Dave DeWitt's primer on the subject, complete with recipes.
The following two tabs change content below.
Managing Editor | Mark is a freelance journalist based out of Los Angeles. He's our Do-It-Yourself specialist, and happily agrees to try pretty much every twisted project we come up with.
Latest posts by Mark Masker (see all)