A very well-known and wise hot sauce maker once told me he prefers serranos over jalapenos because they're more consistent in their level of heat. Having just moved from my old place with its raised beds to a condo with just a patio at the time, I was between gardens; all my old pepper plants stayed behind. This was a great place to start over and I took his suggestion to heart. I was not disappointed.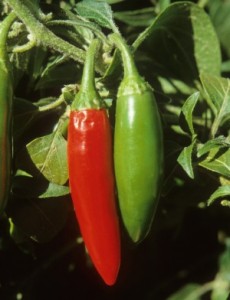 If you're not familiar with the Serrano, they vary in habit from compact to long, have an intermediate number of stems, and grow from 1 ½ to 5 feet tall. The leaves vary from light to dark green, are pubescent (hairy), and measure 3 ½ to 5 inches long and 1 ½ to 2 inches wide. The flower corollas are white with no spots. The pods grow erect or pendant, are bluntly pointed, and measure between 1 and 4 inches long and ½ inch wide. Serranos measure between 10,000 and 20,000 Scoville Units.
Mexico has about 37,500 acres of serranos under cultivation, compared to only 150 acres in the United States, mostly in the Southwest. The states of Veracruz, Sinaloa, Nayarit, and Tamaulipas are the biggest producers of Mexican serrano chiles, growing about 180,000 tons of pods a year. Despite the proliferation of canned serranos, only 10 percent of the crop is processed. The vast majority is used fresh. A very small amount of red serranos is dried out for sale in markets. Recommended varieties are the Mexican cultivars 'Altamira,' 'Panuco,' and 'Tampiqueño.' In 1985, the Texas Agricultural Experiment Station released 'Hidalgo,' a mild, multiple virus resistant strain which is now popular in the U.S.
Serranos, grown extensively in Mexico, grow and fruit well in the home garden. The growing period is at least 90 days. The plant can produce up to 50 pods.
In Mexico, 90 percent of the crop is used fresh and the rest is canned. Serranos are most commonly used in fresh, pico de gallo-type salsas.
The following two tabs change content below.
Managing Editor | Mark is a freelance journalist based out of Los Angeles. He's our Do-It-Yourself specialist, and happily agrees to try pretty much every twisted project we come up with.
Latest posts by Mark Masker (see all)