Whether pepper gardening is your passion, or you're just getting started with that first pot of plants, from now through October you can visit the gardens at New Mexico State University's Fabian Garcia Science Center in Las Cruces. There you'll see peppers being grown the way the pros do it, and possibly pick up some growing tips to take home!
Fabian Garcia was a horticulturist who produced the first reliable chile pod in the early 1900s, which was the beginning of the hot "Sandia" pepper. Other pepper cultivars have also been developed at NMSU, including more than 40 varieties of the NuMex chile. They don't just limit their pepper proficiency to green chile, however. According to Director Paul Bosland, the theme of this year's garden is "Chile Pepper Flavor From Around the World." Visitors will find chile peppers whose names refer to Europe (Bulgaria, Greece, Hungary, Portugal, Spain), the Caribbean (Cuba, Jamaica, Tobago, Trinidad), and various places in New Mexico (Chimayo, Mesilla, Santa Fe, Zia Pueblo), as well as other points on the globe.
"This year's theme will highlight the subtle but important flavor differences among chile pepper varieties," said Bosland. "People may not realize that chile peppers have notes of apple, citrus, prune, smoke, grass, etc. in the different varieties. Some chile peppers have fruit walls that are sugary sweet, while others are as bitter as quinine."
NMSU is also the home of the Chile Pepper Institute, which made headlines with their ultra-hot "Holy Jolokia" products made with Bhut Jolokia chiles. You can order a bottle from CaJohns here and help support the work of the Chile Pepper Institute.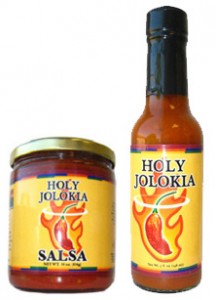 The scope of NMSU's plant research is impressive. In addition to chile plants, the Center also boasts an onion breeding program that is one of the only two active, public onion breeding programs in the United States that is releasing cultivars and germplasm lines.
NMSU was recently granted $450,000 to research algae for bio diesel.
The viticulture program has recently planted many grape varieties. If wine is your thing, you can look into signing up for a Wine Making class which takes place at the farm. There's also a landscape garden, if pretty flowers are your passion.
For hours and other information about the Chile Pepper Institute and garden, go here.
The following two tabs change content below.
Lois Manno
Lois is the Editorial Director of the Burn! Blog and the Fiery Foods & BBQ SuperSite.
Latest posts by Lois Manno (see all)