Since my daughter Natalia moved out of the house to go to college, my trips to visit her—first in San Diego, later in New York City, and most recently in Milan, where she is now working—turned into a series of foodie related activities ranging from cookbooks to read, cooking TV shows to watch, open markets to visit, and restaurants to experience. Always a culinary journey, in those trips my travel companions were chiles, achiote and mole paste, among other hard-to-find-abroad Mexican ingredients. Ready to cook I must always be—one time I grilled meat and vegetables for 40 people celebrating Natalia's graduation in NYC—but longing also for my knives that stayed at home and hoping to find a new model to add to my collection. For someone who wants to see, taste, and experience new ingredients, foods, or concepts, these trips, accompanied by a local, are a real treat.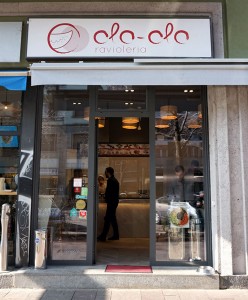 "We are going for the best ravioli in town," Natalia said on my latest visit to Milan—barely a month before the pandemic started. She took me to her favorite lunch time place. A small one, only a short bar and a few stools available, it turned out to be a mostly "take out" place, not my favorite setting but there I was hoping for the best ravioli in town.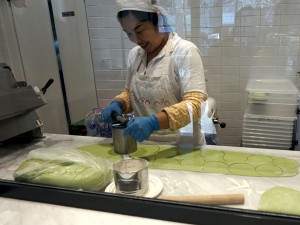 A big fixed glass window welcomes you where you can see through it a Chinese lady making ravioli by hand in the most beautiful shapes, a distinct shape for every type of filling. The scene made me think more of Chinese dumplings than ravioli, perhaps because I had a preconceived idea that I would witness an old Italian lady making pasta; it was somewhat disappointing. I tried immediately to ask questions to no avail. She could not hear me well behind the glass and as it turned out, she didn't speak English or Italian, much less my beloved Spanish. My questions were going to be left unanswered—or so I thought. In a small opening, there was an entrance to the back, used also to house the cash register, pass the food out, and the only place where you could actually talk to someone. And here is where things began to clear up, starting with the cashier—also Chinese—that spoke Italian and English! She knew Natalia, was happy to see her, and willing to answer my questions! Superb!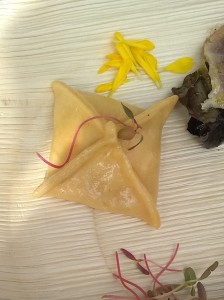 When we came to the sauces questions, I asked what kind of chile they had used in the fiery one which I liked very much. It was heavy on the garlic and green onions but had a nice, sweet, hot punch. She answered "habanero" which I could not identify for the reasons mentioned and because I would not expect to find in a pasta place in Italy! But most significant was that when she said "habanero," her accent was perfectly Mexican! Needless to say that more questions came to my mind starting with: Do you speak Spanish? Where did you learn how to make it? Why habanero? and so on. It turned out that she had worked several years in Playa del Carmen in the Yucatan Peninsula before moving to Milan, where she suggested a habanero sauce to her boss. She got habanero chiles from a local purveyor that imported them from Africa and Spain, and made a sauce that was immediately adopted by the ravioleria. The flavor however was not the same as the habanero from Yucatán yet produced a better sauce than previous versions available in the restaurant.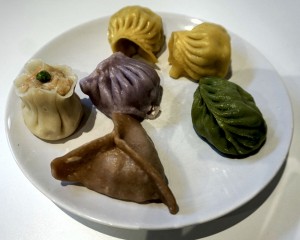 What an experience! We went for the best ravioli in town—me thinking they were made by an Italian grandma—but it turned out they were made by the Chinese and one of them trained in fiery sauces in Mexico! Nothing seemed to make sense! After we enjoyed a wonderful ravioli sampler, we walked away making plans to return for more, but as is often the case, extraordinary experiences are to be enjoyed only once. A busy schedule and a ski trip to France got in the way.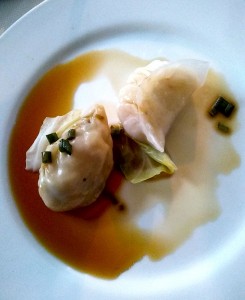 Walking back home after our ravioli stint, I was trying to understand what I had experienced and somehow the thought of dumplings came to my mind again. Is there a relationship between Italian ravioli and Chinese dumplings? I began to ponder… Now my mind was even more confused than before, but wait! No! There is no confusion; everything became clearer all of the sudden instead. Italians brag about pasta knowing perfectly well that in 1271—as many historians claim—Marco Polo in one of his trips to China brought it along! Now, the only remaining question was: were those ravioli the best in town because they were made by Chinese hands?
Find the best ravioli in Milan for yourself at: Olo Olo Ravioleria, Via Pietro Borsieri, 41, Milano, 20159.
Ravioli Recipes
The following ravioli dishes can be made with this simple pasta recipe:
4 cups of flour, preferably 00
4 eggs
2 egg yolks -optional-
Pinch of salt
Mix the ingredients and knead until the dough is dry and soft, approximately 10 minutes. Cover it and let it rest for a couple of hours at room temperature. Cut the portions in circles or squares depending on the shape and size of ravioli you want to create. If circles are chosen, place the filling in a line on the center, fold covering it and pinch to close like a turnover. If squares are chosen, fill in the center and fold the corners toward each other and close pinching the dough. Practice makes perfect; once you master these basic shapes, you can experiment with others. Carefully place the Ravioli in boiling water until cooked al dente. Leftovers? At room temperature, fry the Ravioli lightly in olive oil. Enjoy!
Yield: 6 to 8 servings
Cilantro, Serrano and Goat Cheese Ravioli
8 Oz. Goat cheese
2 Finely chopped serrano chiles
Sprig of cilantro finely chopped
Mix the cilantro and serranos with the cheese to a uniform blend. Fill the pasta and boil.
Yield: 6 to 8 servings
Heat level: low
Roasted Asparagus and Garlic Butter Ravioli
1 Bundle of asparagus
4 Garlic cloves finely chopped
8 Tablespoons butter
Salt to taste
Lightly roast the asparagus in an open flame, preferably charcoal or wood. Let them cool off then chop them and sautée in the butter with the garlic. Add the salt, fill the pasta and boil.
Yield: 6 to 8 servings
Chipotle Shrimp Ravioli
1 lb. Shelled and deveined shrimp
1 can chipotles en adobo
8 Tablespoons butter
Salt to taste
Lightly sautée the shrimp in the butter until they change color. Let the shrimp cool off. Chop the chipotles. Place one shrimp in every piece of pasta adding on top to your taste the chipotles with the adobo sauce. Fold and boil.
Yield: 6 to 8 servings
Heat level: low
The following two tabs change content below.
Latest posts by José C. Marmolejo (see all)