In the mid `50's, José and Susana Plasencia took the northbound road from the interior of Mexico toward California chasing the American Dream. But as dreams don't come easy, they established themselves "temporarily" with their children in Puerto Nuevo, a small fishing village close to Rosarito in Baja California, some 25 miles south of Tijuana, waiting for the right time to make the final move. The family finances were not in the best shape; José and Susana had to devise a way to put food on the table. Working out of their house kitchen, they began to sell tacos and beer, a favorite combo of many—including myself—cooking what they had on hand: fresh lobster and flour tortillas.
The market was not big then; the 2010 census reported a population of 135 inhabitants in Puerto Nuevo. As a result the business goal must have been only survival. The lobster was prepared by cutting it in half and frying it lightly in lard, then serving it accompanied with rice, frijoles de la olla, flour tortillas and salsa. With a flour tortilla in one hand and a fork in the other, lobster pieces were pulled out of the shell and everything else needed to make a taco was in front of your eyes. Once rolled up a lobster taco and fixings was ready to be enjoyed. As odd as this combination may sound, it worked in the palates of the local people and given its low price, word got around all the way to Tijuana, where gluttons drove forty five minutes south to experience a warm evening by the ocean enjoying lobster tacos and cerveza for the equivalent of just a few dollars. The business was not an instant success but quality and price made it happen with time. Word of this idyllic experience then made it further north to San Diego, where college students, who being under age couldn't buy alcohol, discovered a new weekend activity with legal cerveza included. Friday or Saturday evenings, south of the border in Lobster Beach—as they baptized Puerto Nuevo—became home to a must-do activity among youngsters. Lobster tacos and beer for a few bucks was the magnet that made a must-do weekend pilgrimage for college kids.
Corona was the only beer brand available in Puerto Nuevo. It was marketed then to sports fans through radio and TV spots sponsoring broadcasts of baseball, boxing, and wrestling matches. Pricing on the beer favored blue collar and construction workers. Fishermen were no exception, so Corona, low in price—but not in quality—was available and popular in Puerto Nuevo.
It didn't take much for the young gringos to start carrying six packs of Corona into the States where it was not available. It served to remind them of the weekend experience and to brag with other students about being able drinking in the middle of the week… before going back for more. This is how Corona beer found its way into Southern California, well before the latest virus…
During the 70's, Cervecería Modelo, aware of the unexpected acceptance of its Corona beer in the U.S.A., developed a strategy to sell it in the States of higher Mexican immigrant populations, ignoring the underage crowd for obvious reasons. But soon the youngsters were over 21 and sold on the brand, and with Corona already available in California it became their beer of choice.
Before Corona's popularity became a nationwide phenomenon, Cervecería Modelo had to face a legal battle with a brewery in Puerto Rico that had an identical beer brand. Once the brand rights were acquired after a significant amount of time and money spent, the road was paved to become the top-selling imported beer in the U.S. Tagging along other sister's brands like Modelo and Negra Modelo, the Corona life in the U.S. became a well known success story…
Today there are many restaurants in Puerto Nuevo that serve the iconic dish—chased of course with a Corona—that have put Lobster Beach in the gastronomic destination map. If you visit this unique place, try Puerto Nuevo 2, the original business owned still by the Plasencia family, a truly historic experience. Credit is due to the gourmands from Tijuana and the adventurous college kids from San Diego at that time, without forgetting José and Susana Plasencia, whose "right time" to cross the border never came…
Recipes
Baja Lobster Tacos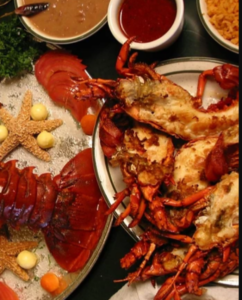 An iconic dish representing Baja California gastronomy, can be done at home without a major effort. It is a good grill choice also if you are not into frying shellfish, just rub the meat with olive oil and garlic before placing it on the grill.
Ingredients
2 lobsters cut in half lengthwise in the center
olive oil to taste
2 garlic cloves cut in halves
Salt to taste
12 flour tortillas
Fried Mexican rice and Frijoles de la olla for fixings
Instructions
In a frying pan on medium heat put the oil and the garlic and fry it until it begins to change color, then remove it. Place the lobster halves in the oil with the meat facing the oil for between two and three minutes and remove it from heat. If the lobster is big and meaty it may need an extra couple of minutes to fully cook. With a fork, pull the meat and fix yourself your tacos on warm flour tortillas, adding the salsa of your choice. Accompany them with the rice and beans, and wash it down with a Corona beer.
Yields: 4 portions
Note: for the next two recipes you will need the following batter:
Ingredients
1 cup all-purpose flour
1 teaspoon baking powder
2 eggs
1 16 fl oz bottle of beer or carbonated water
Salt to taste
Instructions
In a bowl mix the flour, baking powder, egg and salt well. Begin to add the beer (Negra Modelo recommended) or the carbonated water to produce the batter to the thickness of your liking. You will need about half of the beer/water. Drink leftovers!
Yields: 4 portions
Baja Fish and/or Shrimp Tacos
The combination of fried fish or shrimp, flour tortillas, red cabbage, and chipotle mayonnaise is just great. It doesn't look very appealing the first time, but once you've tasted it, it makes you salivate the second time you see it and from then on.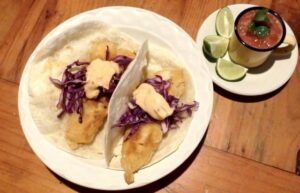 Ingredients for fish tacos
4 white fish filets cut in 3- to 4-inch pieces, lightly salted
Batter as recipe above
12 flour tortillas
Chipotle mayonnaise, mix 50% mayo and 50% chipotles en adobo
Red cabbage for garnish
Cooking oil
All-purpose flour to powder the fillets before placing them in the batter
2 to 3 lemons
Salt to taste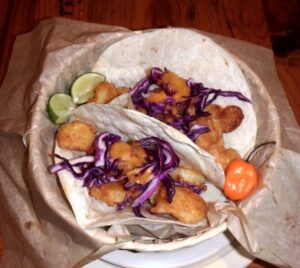 Ingredients for Shrimp Tacos
1 lb. cocktail shrimp, lightly salted
Batter as recipe above
12 flour tortillas
Chipotle mayonnaise, mix 50% mayo and 50% chipotles en adobo
Red cabbage for garnish
Cooking oil
All-purpose flour to powder the shrimp before placing them in the batter
2 to 3 lemons
Salt to taste
Instructions for Baja Fish and/or Shrimp Tacos
Powder thoroughly the fish and/or shrimp with flour and sink them in the batter. Fry the fish/shrimp to light brown and remove to an absorbing surface. Serve them on hot tortillas and garnish with the cabbage and the chipotle mayonnaise. Before squirting lemon, taste them, you may find that these tacos don't need it. Additional salsa could be an option, but then again, it may not be necessary as it may interfere with an already wonderful combination. Buen provecho!
The following two tabs change content below.
Latest posts by José C. Marmolejo (see all)