Are you looking for barbecue appetizers that would suit everybody? You are in the right place.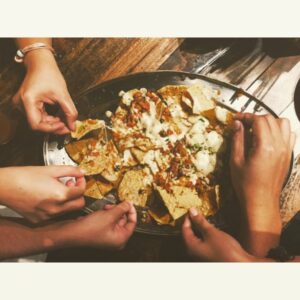 Best 6 BBQ Appetizers For Everyone
1.Grilled Halloumi Cheese
You only need a home barbecue grill, cheese, and olive oil. This cheese is made from sheep's milk. It does not contain rennet. It has a higher melting point, that is why it is so delicious when it is grilled.
2.Grilled Nachos
Everybody loves nachos, so you need to try grilled ones. Put the cheese on top and cover the grill. You will get crispy nachos with melted cheese. You could also mix in BBQ sauce and sour cream.
3.Easy Vegan Tofu and Vegetable Skewers
Use fresh veggies like tomato, baby corn, mushrooms, carrots, and zucchini. Tofu will be better if you press it first. After that, slice it into cubes, add veggies and dressing, and leave it to marinate. Put salt and pepper. After that, grill it up.
4.Grilled Potato Chips
Slice the potatoes very thin. You will need salt and olive oil. You can try to make aioli for the potato chips. You need to the cook potatoes, for five minutes, on both sides.
5.Bruschetta
If you want delicious bruschetta, you need to use fresh and quality products. You will need chopped cherry tomatoes, olive oil, rustic bread, sliced garlic, basil leaves, and salt. Marinate cherry tomatoes for a few minutes. Put sliced bread on the grill. After that, put all other ingredients on a slice of bread and enjoy.
6.Mini Pizza Bites
This appetizer is easy to make. You will need a few ingredients. Prepare pizza sauce, green onions, pepperoni, diced mozzarella cheese, grated Parmesan cheese, and iced mini fillo shells. You have to fill filo shells with a mixture of pizza sauce, green onions, pepperoni, and mozzarella cheese. Then put Parmesan cheese on top. Bake it until the cheese is melted.
Author Bio
Linda loves to cook all kinds of recipes. Her favorites are cake recipes. She loves to write about new recipes on her blog. Also, she has reviewed many recipes on the website- KitchenToast.
The following two tabs change content below.
Publisher | Christened the "Pope of Peppers" by The New York Times, Dave DeWitt is a food historian and one of the foremost authorities in the world on chile peppers, spices, and spicy foods.
Latest posts by Dave DeWitt (see all)