Editor's Note: The following is part II of an excerpt from The Habanero Cookbook, by Dave DeWitt and Nancy Gerlach. Berkeley, CA: Ten Speed Press, 1995. Occasionally, I discussed close relatives of the habanero—the datil pepper and the Scotch bonnet—within the general context of "habaneros."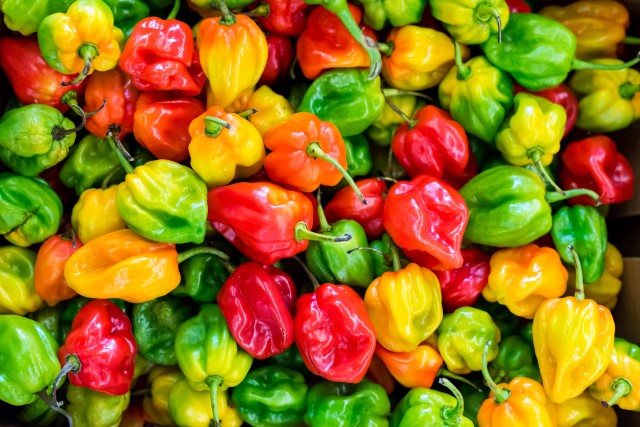 In 1988, fresh habaneros appeared at the first National Fiery Foods Show held in El Paso, Texas, when Jeff brought fresh pods from his farm (no habanero products were displayed at the show). About the same time, Chris Schlesinger of the East Coast Grill in Cambridge, Massachusetts, began mixing Scotch bonnets with onions, mustard, and tropical fruit juices. The result was his Inner Beauty hot sauce, a brand that soon became very popular.
During the next few years, as habanero sauces and other products were introduced, the most common reader questions, phone calls, and recipe requests to the Chile Pepper magazine concerned habaneros. "Continually, people call our office looking for fresh habaneros, habanero sauces, and habanero seeds from this powerful chile," wrote Robert Spiegel, publisher of Chile Pepper, in 1989. Robert del Grande, owner and chef of Cafe Annie's in Houston, recalls that, in the late 1980s, "We would pay top dollar to get them [habaneros] from the Caribbean. Half would be rotten, garbage material, and the other half were past their prime."
Then, at the second National Fiery Foods Show in 1990 in Albuquerque, Nancy and Jeff gave little pieces of pickled habaneros to friends they knew could take the heat or those who were so macho that nothing seemed even warm to them at the show. These proved to be very popular.
At the time, Melinda's Hot Sauce from Belize (see pages 21-22) became the fastest-selling hot sauce introduced in this country. The sauce was so popular that it transcended the specialty food market and was soon available in supermarkets nationwide. It proved to be the leader for the popularization of habanero products, which soon proliferated. Additionally, Frieda's Finest (now, Frieda's, Inc.), a California specialty produce company, began nationwide distribution of dried habaneros to supermarkets on May 4, 1990. The success of the dried product led to the distribution of fresh habaneros in September of the same year. Another specialty produce company, Melissa's World Variety Produce, soon began distributing a variety called goat pepper, a chinense with a presumably Bahamian origin.
At the 1991 National Fiery Foods Show in Albuquerque, there were at least ten habanero products on display—both imported and domestic—which included hot sauces, marinades, and jerk sauces. The jerk sauces, based on Jamaican recipes (see pages 93-110), reflected the growing appeal of Caribbean foods; most contained Scotch bonnet or habanero variety chiles, pimento (allspice, not to be confused with pimiento, the olive-stuffing pepper), onions, and salt. Other ingredients commonly added included garlic, ginger, vinegar, soy sauce, ketchup, thyme, cinnamon, and nutmeg.
By the end of 1994, at least twelve national seed companies were carrying generic habanero seed, Seed Saver's Exchange Yearbook listed the availability of seed from approximately fifty chinense varieties, and the fresh pods began appearing with more regularity in supermarkets in Arizona, Texas, and other states. One mail-order catalog contained thirty-four different habanero sauces.
We attempted to find out the total number of habanero sauces by asking Chip Hearn of Dewey Beach, Delaware, who has the world's largest hot sauce collection—more than two thousand different kinds. He said that "hundreds and hundreds" of them were habanero sauces and laughed when we asked for an exact count.
Whatever the number of habanero products, no one doubts their growing popularity, which parallels the overall trend toward hot and spicy foods in this country. And the enormous demand for habaneros in particular has led to habanero farming in the United States.
Campeche Shrimp Cocktail
Serve this cocktail the way they do in Campeche, Mexico, in tall parfait glasses with the guests using long-handled ice tea spoons also known as cocktail stir spoons to consume this deliciously spicy dish. The minced onion, cilantro, and habaneros are served separately in very small bowls so diners can add just as much or as little as they wish.
Habanero: Campeche Shrimp Cocktail Ingredients
2 large tomatoes, roasted, peeled, seeds removed, chopped
½ cup fresh orange juice
2 tablespoons fresh lime juice
2 tablespoons olive oil
1 teaspoon sugar
½ cup minced purple onion
Salt and freshly ground black pepper, to taste
1 pound medium shrimp, cooked, peeled, and deveined
¼ cup minced fresh cilantro
2 habaneros, seeds and stems removed, minced
Instructions
Place the tomatoes, orange and lime juices, and oil in a blender or food processor and puree until smooth. Transfer the puree to a saucepan and stir in the sugar and ¼ cup of the onion. Season with salt and pepper. Bring to a simmer and simmer for 10 minutes.
Divide the shrimps among 4 to 6 parfait glasses. Spoon the tomato mixture into the glasses to cover the shrimps. Place the remaining onion, the cilantro, and habaneros in separate bowls and serve on the side.
Yield: 4 to 6 servings
Heat Scale: Varies
The following two tabs change content below.
Publisher | Christened the "Pope of Peppers" by The New York Times, Dave DeWitt is a food historian and one of the foremost authorities in the world on chile peppers, spices, and spicy foods.
Latest posts by Dave DeWitt (see all)