These chicken breasts are filled with cheese and chillis, rolled in spicy crumbs and baked. Serve with Byron Bay Chilli Co Mild or Spicy Salsa Picante. Que bueno!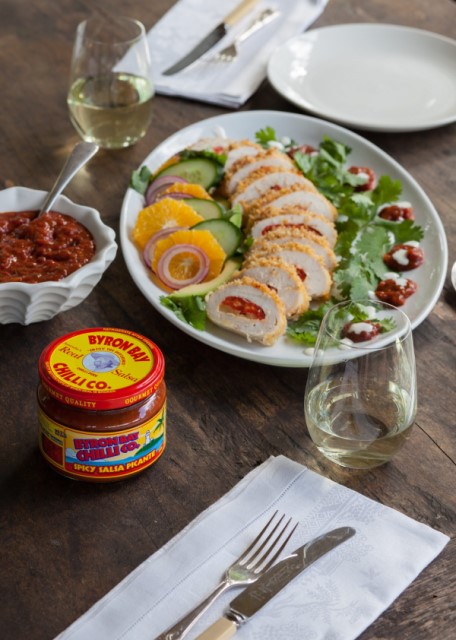 Byron Bay Chilli Co Stuffed Chicken Breasts Ingredients
1/2 cup fine dry breadcrumbs or processed Byron Bay Cornchips
1/4 cup grated Parmesan cheese
1 teaspoon chilli powder
1/2 teaspoon garlic salt
1/4 teaspoon ground cumin
1/4 teaspoon ground pepper
8 boneless chicken breast fillets, skinned
Choice of 2 fillings:
1 cup chopped fresh or pickled jalapeno chillis (spicy) or 250g roasted red capsicum (mild)
125g havarti, jack or cheddar cheesecut into 8 strips
6 tablespoons melted butter or margarine
1 cup sour cream
a few sprigs coriander
Instructions
In a shallow pan, combine bread or cornchip crumbs, Parmesan cheese,
spices, salt and pepper. Set aside.
Place chicken breasts between 2 sheets of plastic wrap on a cutting board.
With a mallet, pound breasts until each is about 6 mm (1/4 inch) thick.
Lay a piece of cheese and your choice of capsicum or chillis across the width
of each breast. Fold in sides so they overlap and seal in filling; fold ends over top. Dip each chicken bundle in melted butter and drain briefly. Then roll in crumb mixture to coat evenly.
Place bundles seam side down, without touching, in a baking dish. Drizzle with any remaining butter. Cover and refrigerate for at least 4 hours or overnight.
Bake uncovered in a hot oven (200 C/400F) for 25 minutes (or until chicken is
no longer pink when slashed with a knife).
Spoon salsa over each breast. Garnish with a dollop of sour cream and coriander.
Serve with seasoned rice of your choice and a green salad.
The following two tabs change content below.
Managing Editor | Mark is a freelance journalist based out of Los Angeles. He's our Do-It-Yourself specialist, and happily agrees to try pretty much every twisted project we come up with.
Latest posts by Mark Masker (see all)