It must've been those food and travel TV shows that made street food popular in America. It became attractive and adventurous to eat in the open markets in cities of Thailand, China, or Latin America. Watching Anthony Bourdain eating a wide variety of delicacies on the streets and open markets around the world probably helped to vanish the notion that street food was unsafe health wise. Mexico City being only a few hours from any airport in the USA, became even a weekend destination for American foodies. Street food that was originally the choice of gluttons short of time and money got discovered and publicized by curious food and travel writers in need of fresh content. What was designed to quickly fill the stomachs of the working class gained wide popularity among all social avenues, hipsters included.
European sidewalk cafés have been popular and perceived as "chic" in America for ages. Street food, however, is not perceived as "chic" around the world but now we know that inexpensive and savory food can be found there. Previously, I have submitted that street food should be called "sidewalk food" but, hereby, I'm changing my mind. Lately, I have been observing that in frequent instances it is in fact "street" food and worse of it a blend of sidewalk and street food! Both are being invaded by food and beverages vendors! Take for example the lady that sells nuts and candy outside where I shop for fruit and vegetables. She occupies a big part of the sidewalk with her merchandise on one side leaving about two feet for people to pass through. She also takes the other side of the sidewalk to "corral" her children using vegetable crates! To maximize exposure to her merchandise, she also takes a piece of the street where she sits on a stool obstructing the parking space where I always intend to park my vehicle when I drive there. This well fed Mexican lady doesn't appreciate my kind but sarcastic words: "May I borrow a piece of your street to park my car?" but she has to concede because I´m a preferred customer at the produce place. I could make a fuss with the owner and make her lose her vending spot. But can it get worse? Sure! Not so long ago, I had to wait to get into my car with my fruits and vegetables because her son was peeing in front of my car door… Sorry about being so graphic but I have to get it out of my system. The idea here is to illustrate how extreme and absurd street and sidewalk vending can become.
Enter Covid 19. Around 13,000 restaurants were ordered to close in Mexico City due to the pandemic. More than 70,000 jobs were put on hold just in this industry alone, creating an economic downturn never seen before. The trade organizations demanded the city government to declare its industry "essential activity" and to allow restaurants to open under strict health preventive measures to save businesses and jobs. The Mexico City government reacted by allowing the reopening of all restaurants that had or were able to install tables and chairs on sidewalks and—are you ready?—on the streets!
On a recent Saturday afternoon walking tour of the Roma and Condesa neighborhoods—popular foodie quartiers in Mexico City—I noticed that it looked as if there was no pandemic. Restaurants and bars were full from brunch to dinner to after dinner drinks and music. Without a doubt people wanted to enjoy the prevailing good weather and were ready for a break from long months of confinement. Accompanied by my daughter Sofia, we checked that the food offer was complete, from the corner fish and squid tacos and tostadas cart to trendy places like Gabriela Cámara's "Contramar"—sister company of "Cala" in San Francisco. During our food excursion, we stopped for a seafood sampler in one place, then duck tacos in another, and finally drinks and coffee in another. The sidewalk and street tables strategy worked perfectly but a new threat appeared on the horizon: the rainy season. The Covid 19 contingency threw several thousand restaurants out of business but a successful strategy saved some other thousands of eateries. Now something else would need to be done again for restaurants' and bars' survival during the six rainy months ahead. The authorities reacted again, allowing the installation of canopies fixed and portable to maintain the recently found viability of the businesses. The canopy measure proved successful in protecting the restaurant industry but the most remarkable thing was that it was declared permanent! More sidewalk and parking "real estate" devoted to chairs and tables, less for automobiles! The result turned out to be good for the environment as well as for the businesses and the beautiful atmosphere that authorities, restaurants and patrons have created!
Now, if you salivated when you read "squid tostadas" or "duck tacos" above and you cannot travel right away to Mexico City, try the recipes below while you wait for your next south of the border food and travel adventure! Buen provecho!
In Memoriam of Anthony Bourdain Three Years After his Departure…
"Do we really want to travel in hermetically sealed popemobiles through the rural provinces of France, Mexico and the Far East, eating only in Hard Rock Cafes and McDonalds?" Mr. Bourdain wrote in the memoir. "Or do we want to eat without fear, tearing into the local stew, the humble taqueria´s mystery meat, the sincerely offered gift of a lightly grilled fish head? I know what I want. I want it all. I want to try everything once."
Recipes for Sidewalk and Street Food
Duck Tacos
As sophisticated as it may sound, this is a simple and inexpensive recipe due to the fact that duck can be roasted for a special occasion and the leftovers can be used for tacos. Duck confit works very well too.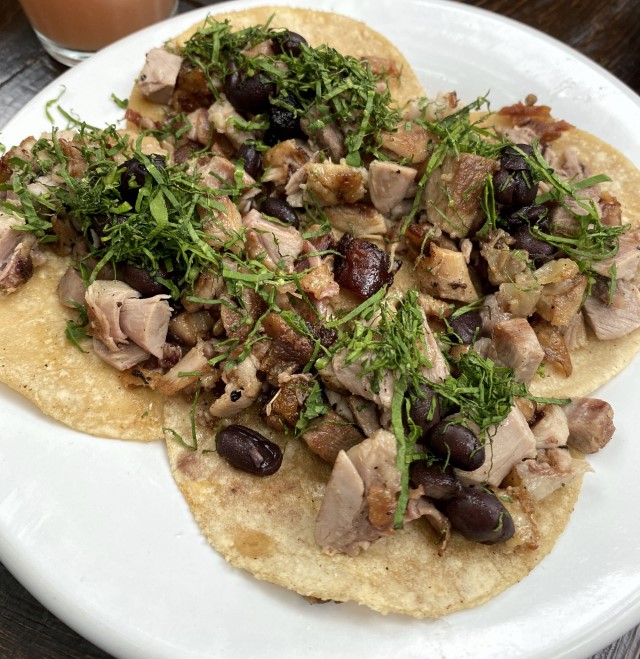 Ingredients
1 lb. cooked duck, shredded
12 corn or flour tortillas
1 can whole beans or chickpeas
Vegetable oil
Your favorite greens shredded for topping
Your favorite salsa picante
Salt to taste
Instructions
Sautée the duck meat in a little oil and add the beans or chickpeas. Check for salt.
Serve on warm tortillas and top the tacos with the greens and salsa.
Yield: 4 servings
Heat level: medium to hot
Squid Tostadas
Another inexpensive and easy to prepare dish. Squid´s popularity has increased in the past few years but the price is still reasonable. Squid works well with many other ingredients and can be found in cuisines around the world.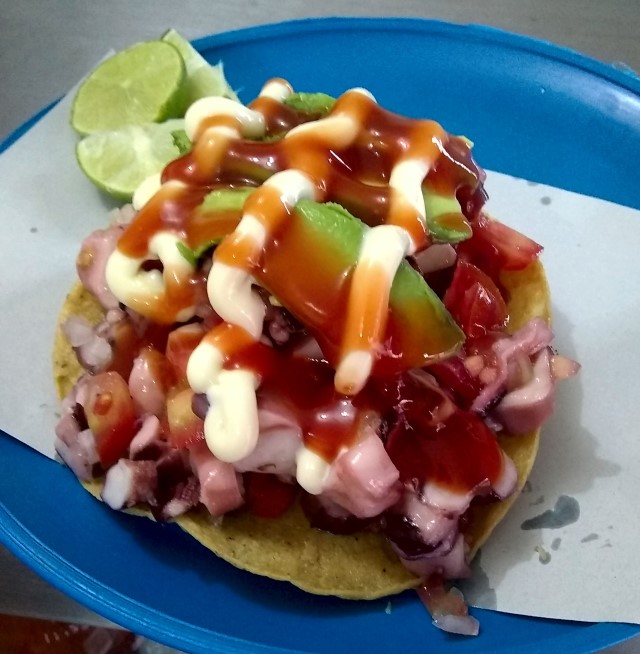 Ingredients
1 lb. boiled squid. It takes about 45 minutes to boil a squid. Test with a fork for desired texture.
12 tostadas
2 tomatoes chopped
½ onion chopped
2 to 4 chiles serranos chopped
2 avocados sliced
4 lemons sliced
Catsup and mayonnaise to taste
Salt to taste
Instructions
Chop the squid in bite size chunks and squirt the lemon juice on it.
Put over the tostadas and add the tomatoes, onions, and serranos.
Add the avocado slices and top everything with catsup and mayonnaise. Enjoy!
Yield: 4 servings
Heat level: medium to hot
The following two tabs change content below.
Latest posts by José C. Marmolejo (see all)