Although the title of this Cajun-based recipe is barbecue shrimp, the dish is actually cooked, not barbecued. Using barbecue sauce as a condiment, however, reduces the need for a number of ingredients as well as making it very easy to prepare.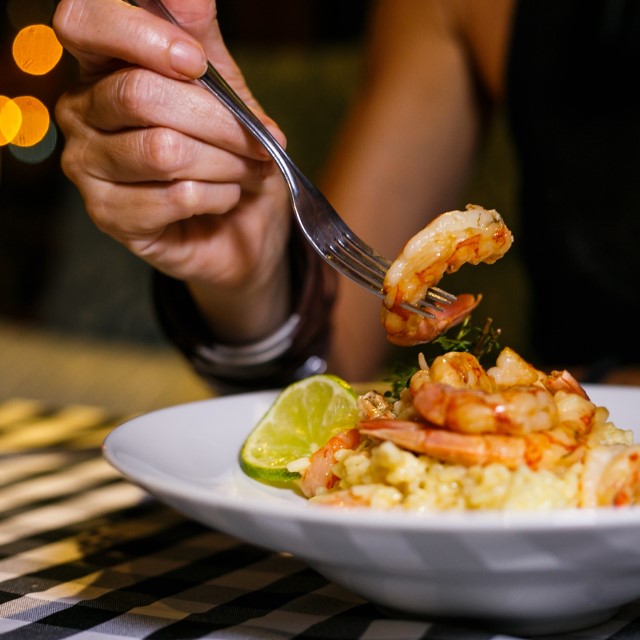 Barbecue Shrimp Ingredients
24 medium shrimp, peeled and deveined
Freshly ground black pepper
3 tablespoons olive oil
1/4 cup chopped onion
2 teaspoons minced garlic
1 ½ cups beer
3 tablespoons CHILLI PEPPERS HABANERO BBQ SAUCE
1 tablespoon honey
2 teaspoons Worcestershire sauce
3 bay leaves
1 tablespoon butter
2 cups cooked white rice
Garnish: Lemon wedges
Instructions
Sprinkle the shrimp with the black pepper and set aside.

In a large saucepan, heat 2 tablespoons of the oil until hot and sauté the onion and garlic for 1 minute. Add half the shrimp and, while shaking the skillet, sear the shrimp for 1 minute. Transfer the shrimp to a bowl and keep warm. Add the remaining oil, and repeat with the remaining shrimp. Set all the shrimp aside.


Add the beer, BBQ sauce, honey, Worcestershire sauce, and bay leaves. Bring the sauce to a boil, reduce the heat and simmer for 30 minutes. Let the sauce cool for 15 minutes and then strain.

Return the sauce to the heat and simmer until it is reduced by one half.

Add the shrimp to the sauce, toss to coat, and simmer for a couple of minutes or until heated through. Stir in the butter until it is thoroughly incorporated.

Serve the shrimp over the rice, garnished with the lemon wedges.
The following two tabs change content below.
Publisher | Christened the "Pope of Peppers" by The New York Times, Dave DeWitt is a food historian and one of the foremost authorities in the world on chile peppers, spices, and spicy foods.
Latest posts by Dave DeWitt (see all)