Andouille (On-do-ee) is a sausage very popular in Louisiana. The lean pork is not ground but cubed. Garlic, onion, herbs and spices are then added and it is stuffed into a larger-diameter casing than most sausages. It is then heavily smoked. I find that the heavy smoking makes the casing a little too al dente so I just peel the casing off before cutting it up to add to the gumbo. Tasso is made of lean thin slices of various cuts of raw pork roast. The slices are then well seasoned with a rub or shake and smoked through. It is great for seasoning beans, greens, soups and gumbos and for the cook's privilege of sneaking a bite or two while preparing a dish. Serve over steamed white rice with crusty French garlic bread for dipping and a side salad. Note: This recipe requires advance preparation.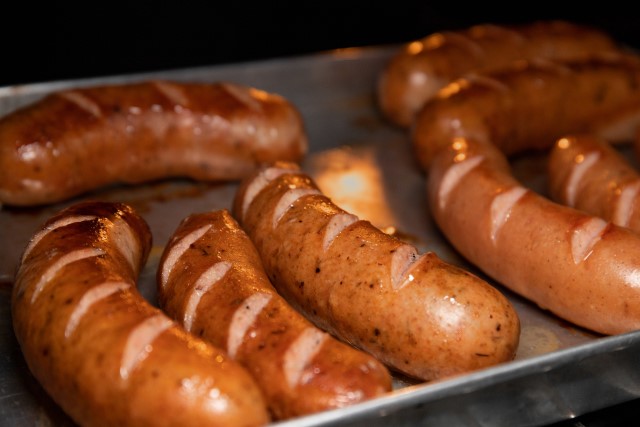 Gumbo Ingredients



For the Chicken:
3 pounds boneless, skinless chicken thighs
8 or so good shakes of Kikoman Soy Sauce
4 shakes or so of Worcestershire Sauce.
2 pinches freshly ground black pepper
1 tablespoon dried parsley
1 packet Goya Sazon con cilantro y achiote
For the Rest:
¼ cup canola oil
¼ cup flour
½ teaspoon freshly ground black pepper
2 medium yellow onions, peeled and diced
8 cloves garlic, smashed, peeled, and minced
1 medium red bell pepper, seeds and stem removed, deveined and diced
3 good sized yellow habanero peppers, seeds and stems removed, minced
1 medium yellow bell pepper, seeds and stems removed, deveined and diced
4 stalks celery, diced
1 can crushed tomatoes
¼ teaspoon ground cumin
3 heaping tablespoons dried parsley
2 bay leaves
1 packet Goya Sazon con cilantro y achiote
4 cups chicken stock
3 tablespoons Kikkoman Soy Sauce
½ cup red table wine
4 or 5 good shakes Worcestershire Sauce
1 slice bacon
1 pound Andouille sausage with casing removed, cut into ¼" rounds
½ pound Tasso, cut into thin strips
1 pound frozen cut okra
Instructions
In a non-reactive bowl, combine all the ingredients for the chicken and mix well. Cover and refrigerate overnight,
Add the equal parts of oil and flour to an 8 quart, heavy pot along with the black pepper. Stir constantly over medium high heat until the mixture turns a medium dark brown. If you burn this roux, throw it away and start over. The burned flour taste will permeate the whole dish. When your roux gets to the perfect shade of brown, add the onion, garlic, peppers, and celery. Sauté over medium flame until the vegetables are softened and have given over most of their moisture to the roux. Add the crushed tomatoes with their liquid. Stir and cook for until smoothed out. Stir in the cumin, parsley, bay leaves, and Goya Sazon. Add the chicken stock slowly and keep stirring as the mixture thickens. Add the soy, red wine and Worcestershire. Just don't stop stirring and add the liquids slowly so that the roux won't break.
In a heavy skillet fry one slice bacon, remove and eat the bacon (cook's privilege). Add the chicken thighs and sear to seal juices. When chicken pieces are lightly browned remove them to a plate to cool sufficiently to handle. Add the Andouille and Tasso to the skillet and very lightly brown. Cut the chicken thighs into bite sized pieces and put the chicken, Andouille and Tasso into the pot with the vegetables. Be sure to scrape all of the pan juices from the meats into the pot also.
Simmer the gumbo covered for 30 to 40 minutes and then add the pound of chopped okra. Continue to cook until the okra is tender and begins to break up. Add water if more liquid is needed. Gumbo, like most soups, is best the second day.
The following two tabs change content below.
Publisher | Christened the "Pope of Peppers" by The New York Times, Dave DeWitt is a food historian and one of the foremost authorities in the world on chile peppers, spices, and spicy foods.
Latest posts by Dave DeWitt (see all)