This Lamb Fesenjan recipe is courtesy of Saad Fayed and we ran it in this article over at Fiery Foods and Barbecue Central. Pomegranate syrup (also known as pomegranate molasses) can be purchased online from The Spice House.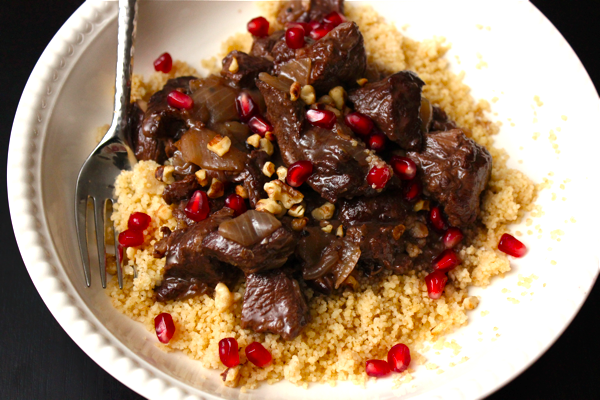 Lamb Fesenjan Ingredients
1 large onion, sliced
1/4 cup olive oil
2 pounds lamb, cut into 1-inch cubes
1/4 cup pomegranate syrup
1 1/2 cup chicken stock
2 cups walnuts, crushed
1 tablespoon plus 1 teaspoon sugar
1 teaspoon black pepper
1/2 teaspoon cayenne
1 teaspoon kosher salt
1/2 teaspoon cinnamon
1/4 teaspoon turmeric
1/2 teaspoon cardamom, ground
2 tablespoons lemon juice
Instructions
In a large frying pan, sauté onions in olive oil. Once onions begin to brown add lamb cubes. Simmer on low and allow to cook for about 25 minutes.
In the meantime, prepare pomegranate sauce by combining the chicken stock, pomegranate syrup, walnuts, and sugar in saucepan over low heat. Allow to simmer for 10 minutes.
Once lamb is done simmering, drain fat and juices. Add spices and mix well. Allow to simmer for 5 minutes.
Add pomegranate sauce and cook over low heat for about 10 minutes.
Serve immediately with white rice. Sprinkle toasted walnuts on top for garnish.
Serves: 6
Heat scale: Mild
The following two tabs change content below.
Managing Editor | Mark is a freelance journalist based out of Los Angeles. He's our Do-It-Yourself specialist, and happily agrees to try pretty much every twisted project we come up with.
Latest posts by Mark Masker (see all)