Here is a tasty option for cooking shark, or, for that matter, any firm fish that is big enough to have steaks cut from it, such as swordfish. We prefer to grill over hardwood rather than charcoal briquets, and two of the best woods to use are pecan and hickory. Mesquite can be substituted, but it imparts a strong flavor to the fish. Dave collected this recipe in Trinidad, where a dish called Shark and Bake is a specialty. Serve with conch chowder, curried cauliflower, potatoes, peas, and a fruit chutney.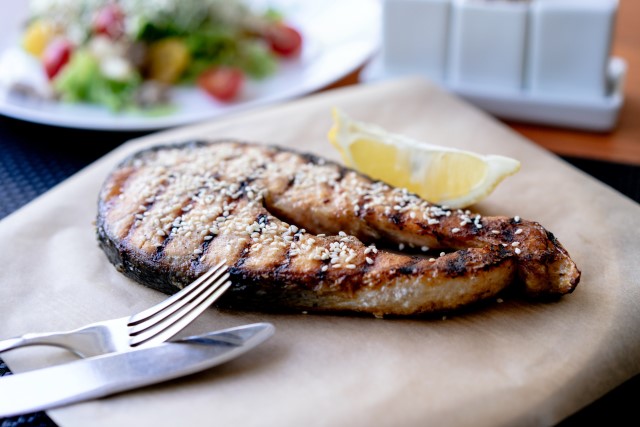 Wood-Grilled Shark Ingredients
4 shark steaks
1 cup freshly squeezed lime juice
½ teaspoon crushed black pepper
1/8 cup sherry
1 habanero chile, seeds and stems removed, minced
1/4 cup olive oil
1 teaspoon salt
Instructions
Combine the shark steaks, lime juice, black pepper, sherry, and habanero in a non-reactive bowl and marinate for 2 hours in the refrigerator.
Remove the steaks and pat them dry. Combine the olive oil and salt and spread the mixture over the steaks. Place the steaks in a hinged wire basket (for easy turning) and grill over hot hardwood coals, taking care that the dripping olive oil does not cause flames to burn the steak. Grill for about 15 minutes, depending on the thickness of the steaks, or until the fish flakes easily.
Yield: 4 servings
Heat Scale: Mild
The following two tabs change content below.
Managing Editor | Mark is a freelance journalist based out of Los Angeles. He's our Do-It-Yourself specialist, and happily agrees to try pretty much every twisted project we come up with.
Latest posts by Mark Masker (see all)