I'm going to go out on a limb here and guess that the Peg Leg Porker Titan is a far cry from the first chuckwagon that Charles Goodnight MacGyvered from an army surplus supply wagon after the American Civil War. For one thing the Nissan Titan-based version has a few more ponies pulling it thanks to its Endurance V8 engine. It also has a killer sound system for when Peg Leg Porker owner and pitmaster Carey Bringle fires up the smoker to cook. If you've ever babysat a brisket overnight while it smoked to yummy goodness in your backyard or at a competition, you know how important good audio can be during that time.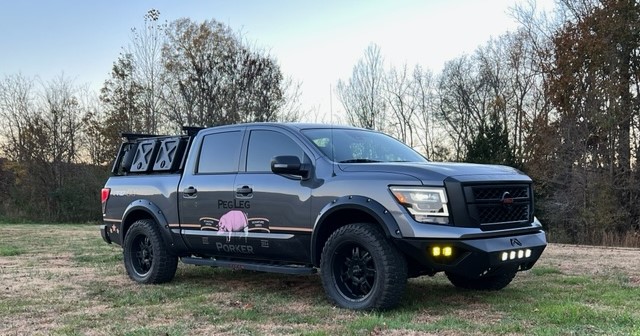 That said, there are some similarities. Way back when, Goodnight added a chuck box with drawers and shelves to the back of his OG chuckwagon. Carey's packs plenty of storage and organizational space in the Nissan Titan's bed, too. And both take their respective chuckwagons off-road. Goodnight because there weren't any on the Texas-New Mexico cattle runs in the 1860s and 1870s; Carey Bringle because, well, he likes off-roading.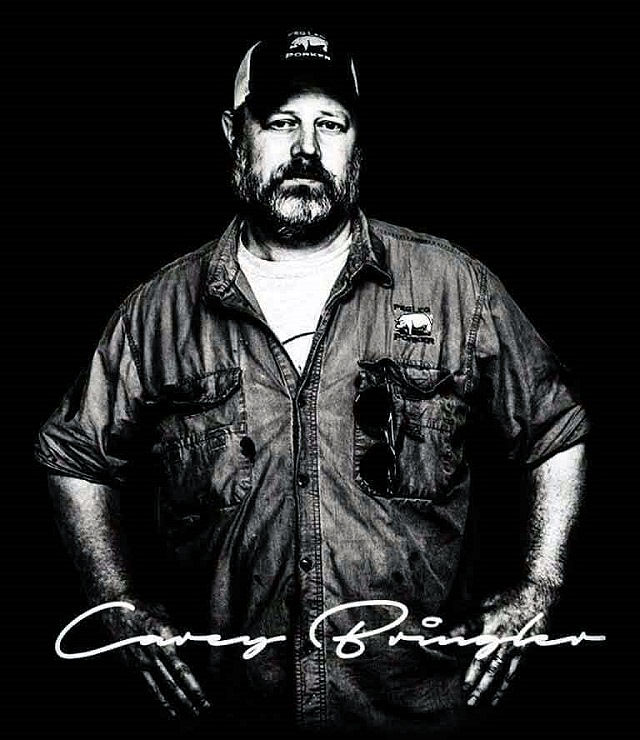 Nissan and Carey Bringle premiered the Peg Leg Porker Titan late last year at SEMA. Here's what he had to say when we talked to him about the whole experience in the weeks following the debut.
MM: We'd like the origin story on this project. How was the Titan project started? Did Nissan come to you or the other way around?
CB: I've been a Titan driver since 2004. I had the original, then the XD Diesel. Then I went on the Titan adventure in 2019 to unveil the 2020. I've done local work with them, catered stuff. I've done a tailgate where they showed off trucks to the media, stuff like that. I knew the team over there, spoken with them in the past about doing stuff, and I have friends who are ambassadors with them. But we never got anything done. After I got the 2021, I called Josh who ran it by Dan and the marketing team. I thought, 'What if we tricked out one as the ultimate pitmaster Titan?' Nissan needed to bring in a third party, Jerrod Strauss at Digital Throttle. That lead to customization. The truck was shipped to California; we had a meeting online. They asked what we wanted. We needed a truck to pull a trailer; not a tailgater. We need the gloves, mops, knives, coolers, etc that would be on that truck to where we could just cook up and go. There was also the need for more lights and a sound system. I think that what's important for this build, is to make it accessible to any Nissan owner. We want to list out the parts so that any Titan owner or builder can build out their own version of this truck. Custom trucks are cool until someone says they want to do it at home but can't because there's too much one-off custom stuff on them.
MM: Why a Titan truck? What do you like most about the truck?
CB: Well, it's been a very reliable truck. It's a big, functional, reliable truck for me. Nissan's headquartered here and why wouldn't I want to work with a local company? We're all about local. We like to work with someone who has a presence in our town.
MM: What makes the Titan ideal for the 12-15 foot trailer you're using?
CB: That's about what you want a half-tonner to pull. When you get into bigger rigs like the 32 footer, I can pull that with the XD but because it's a bumper pull, it squats. It's got too much tongue weight for the Titan. For the 12-15 foot trailer, though, the Titan is perfect.
MM: How is the equipment load in the truck organized so you can get to everything easily without having to search through it all?
CB: They've got it in lockable racks with soft bins that we just unlock and keep our individual supplies in. We can take the custom rack mounts on and off of that thing. It's easy because you're standing up, not leaning down into a bed box. It's eye level. They even have the water chamber on there too (water pod). We could add an extra gas tank if we wanted. All of that will fit on there. We have the slide out bed feature so if I'm loading a big cooler or a bunch of wood, we can slide it out without having to get in the bed and get it out. Which makes it easy on a one-legged man like myself.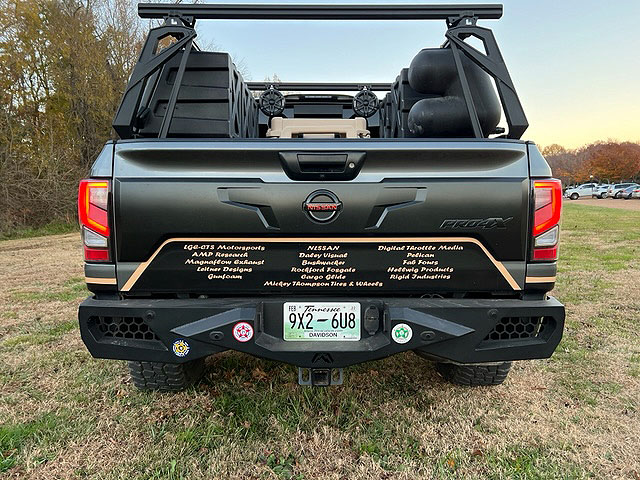 MM: What really makes Peg Leg Porker such a strong lifestyle brand? How and why is this truck the culmination of that?
CB: I own the restaurant, just opened up Bringle's Smoking Oasis, and Pigstar in the airport. I'm the only pitmaster to own his own spirits company, too. We have a line of wholesale and retail food products, BMF 200 smokers, and clothing. We really have a little bit of everything. So on the truck, there are coolers for carrying food and racks to support our rig for the Peg Leg Porker smoker on it. Pelican provided us with a nice rolling cooler in the bed and a case. Gunfoam made the custom cutout in it for the Peg Leg bourbon. So the truck has all of our brand either in it or built to support the brand. And what pitmaster doesn't own a truck?
MM: How does the bourbon come into play with the Peg Leg Porker Titan? Is there a portable bar setup in there somewhere?
CB: Yeah, we have a full-on Pelican case bar, Yeti tumbler, shaker, four rocker glasses, and four bottles of bourbon
MM: Tell us about the off-roading you plan to do with the truck, too.
CB: I love to go shooting. I do some bird hunting. I have friends with farms so we go off-road. Sometimes we deliver barbecue offsite and we can deliver to support that.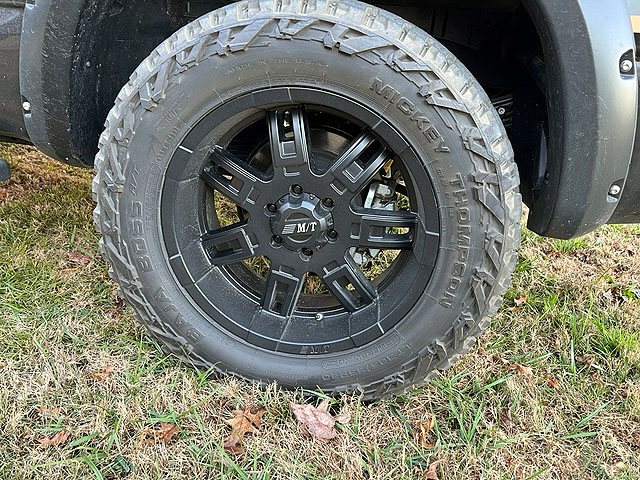 MM: What kind of barbecue events will you be taking it to? Catering projects? Competitions?
CB: The first one was at the Barnsley resort in northern Georgia. Then there was the Wine and Swine dinner. It has golf, bird hunting, Beretta shooting grounds, and a trap range. It's a nice lifestyle resort. We went down there and did a dinner for their guests.
MM: One thing that hasn't been talked about is what kind of smoker you'll be using. Tell us about that.
CB: It's a 12-15 foot trailer with a 200 BMF whole hog cooker in it. Check it out at Sunterra.pro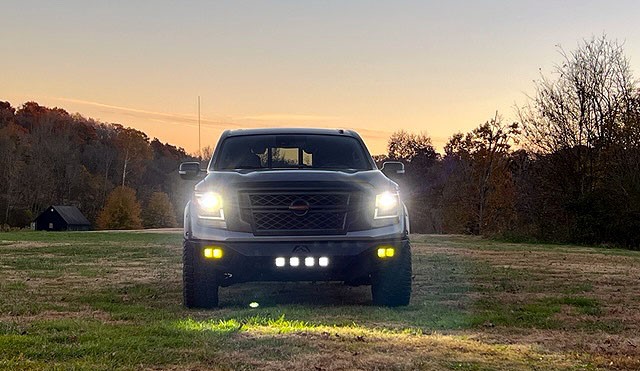 MM: Will Nissan offer the package to consumers as an option at some point?
CB: I don't know. I'd love to see that but don't know if they have any plans to do that. We also worked a lot with Truck Hero on this as well as Hellwig Suspension and MagnaFlow Exhaust.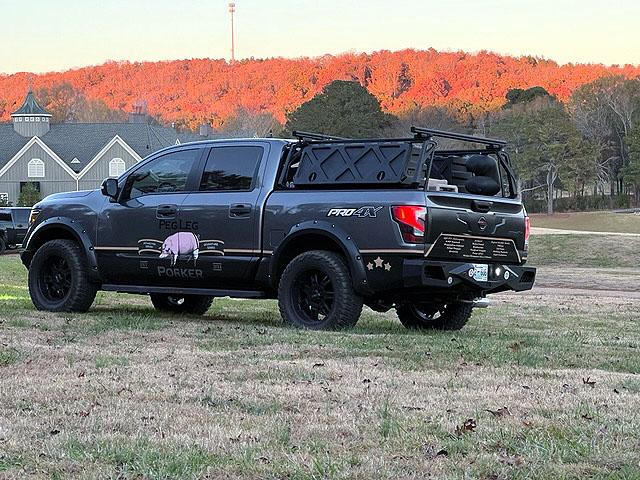 All told, the Peg Leg Porker Titan adds up to a pitmaster's dream of a custom truck that also lets a guy who's down a leg access everything he needs without getting in and out of the truck bed. And that's just one big benefit to this modern take on the classic chuckwagon. Keep up with Carey and Pegleg Porker Barbecue here. Get more information on on this here Nissan truck on its dedicated website. Check out other truck builds by LGE-CTS Motorsports here.
Truck Photos: Jerrod Strauss
Carey Photo: Courtesy of Carey Bringle
The following two tabs change content below.
Managing Editor | Mark is a freelance journalist based out of Los Angeles. He's our Do-It-Yourself specialist, and happily agrees to try pretty much every twisted project we come up with.
Latest posts by Mark Masker (see all)