This is a recipe that requires hot smoke and a lot of it for a short period of time. Instead of 200 degree smoke from your smoker or grill, try for about 400 degrees. Oysters can also be grilled by placing the on the grill over high heat until the shells open, about 6 to 10 minutes, then top with the sauce and serve. This recipe comes to us from Dave DeWitt's Barbecue Inferno book, which you can nab for yourself here.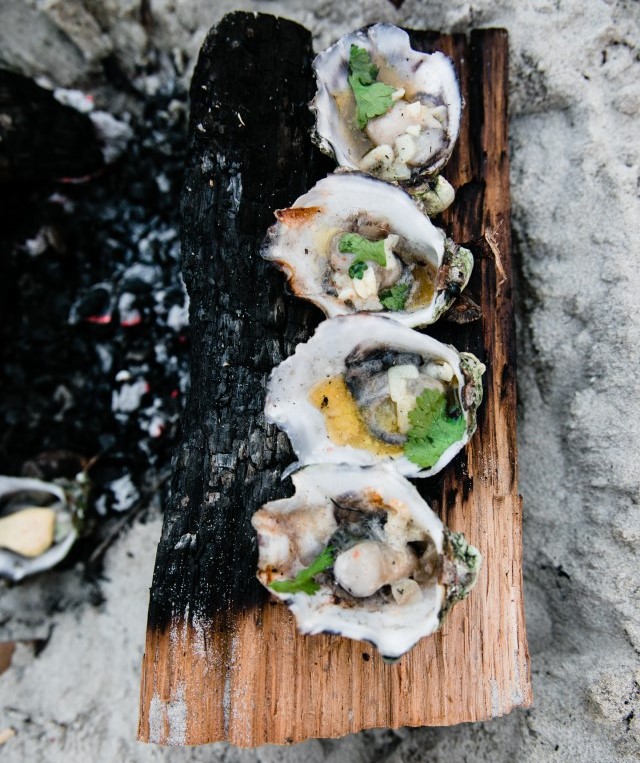 The Oysters
24 large oysters, shucked, reserving the liquid
Lime Marinade for Oysters
½ cup reserved oyster liquid
½ cup clam juice
2 tablespoons vegetable oil
Juice of 1 lime
Ancho Chile Sauce
1 ancho chile, seeds and stems removed
1 chipotle chile in adobo sauce 3 tablespoons tomato sauce
2 tablespoons chopped onions
2 cloves garlic, chopped
2 tablespoons vinegar
1/8 teaspoon ground allspice
Pinch ground cloves
1 tablespoon vegetable oil
1 tablespoon lime juice
Chopped cilantro for garnish
Instructions
Shuck the oysters, saving the liquid. In a bowl, combine all the ingredients for the marinade. Place the oysters in a shallow dish and pour the marinade over them. Marinate the oysters for 30 minutes in the refrigerator. Remove and drain. Keep refrigerated until used.
Soak the ancho chile in hot water for 20 to 30 minutes until soft remove and drain.
Combine the chiles, onions, garlic, and the vinegar in a blender or food processor and puree until smooth. Add a little water if necessary. Add the remaining sauce ingredients and the spices and continue to puree until smooth. Saute the sauces in the oil until almost dry, about 15 minutes. Remove from the heat and stir in the lime juice and cilantro.
Build a hot fire in the smoker or grill and add hickory or other hardwood chips or chunks, as you need a lot of smoke.
Put about ½ to 1 teaspoon of sauce on each oyster. Place the oysters in a grill basket on the grill, close the cover and smoke for 10 minutes
Serve immediately with any additional sauce on the side. Oysters remaining on the grill too long will overcook.
Yield: 2 dozen
Heat Scale: Medium
Photo by Rachel Claire from Pexels
The following two tabs change content below.
Managing Editor | Mark is a freelance journalist based out of Los Angeles. He's our Do-It-Yourself specialist, and happily agrees to try pretty much every twisted project we come up with.
Latest posts by Mark Masker (see all)