Although mild to the taste, the flavor of the chile really comes through in this chocolate pecan pie.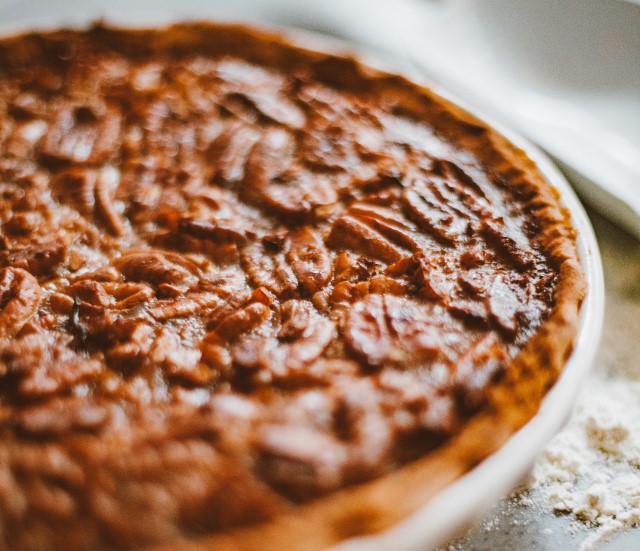 Chocolate Pecan Pie Ingredients
1 cup unbleached all-purpose flour
2 tablespoons cocoa
2 tablespoons sugar
1 tablespoon Chimayó red chile powder
1/8 cup vegetable shortening
1/4 cup unsalted butter
2 tablespoons sugar
3 tablespoons cold water
Pie Filling:
4 tablespoons butter
1/4 cup commercial fudge sauce
3 eggs, beaten
3/4 cup dark corn syrup
½ cup dark brown sugar
2 teaspoons Chimayó red chile powder
1 teaspoon vanilla
1 1/4 cups pecan halves
Instructions
Sift all the dry ingredients together into a food processor.

Add the shortening to the flour. Cut the butter into chunks and add to the food processor and process until it is cut into very tiny pieces, about 1 minute.
Add the water and continue to mix until the dough wraps itself around the blade and forms a ball.
Wrap the dough in plastic and refrigerate for at least ½ hour. Pastry can be kept in the refrigerator for about a week or it can be frozen for several months. If frozen, defrost slowly in refrigerator before using.
For the pie filling: 
Preheat the oven to 425°F.
Line a 9-inch pie pan with the chocolate pie pastry and set aside.
Combine the butter and hot fudge and microwave on High for about a minute. Set aside.
Combine the eggs, corn syrup, sugar, fudge mixture, and vanilla. Stir in the pecans and pour mixture into the pie shell.
Bake for 15 minutes, then reduce the heat to 350°F and continue baking for an additional 30 minutes, or until the edges are set.
The following two tabs change content below.
Publisher | Christened the "Pope of Peppers" by The New York Times, Dave DeWitt is a food historian and one of the foremost authorities in the world on chile peppers, spices, and spicy foods.
Latest posts by Dave DeWitt (see all)