Last week, we shared the trailer for Chiliheads and its premiere at the Fiery Foods Show. Here's some more insight into the movie and director Julien Frechette.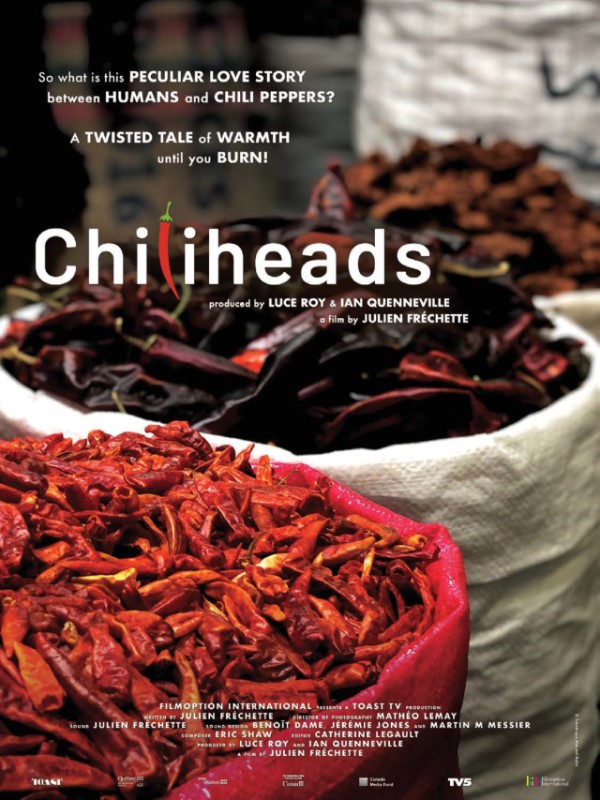 Few foods in the world can claim to have a relationship of this nature with humans. This is implicitly as much a film about hot pepper as it is about humans who have a sincere and deep relationship with it; out of tradition, desire for posterity, to fill a void, for the love of science, to make a living, to do business, or simply to have fun. There is a duality to be explored in loving pain and in the fact that this addiction is a looking glass at the excessive character of our species.
Julien Fréchette holds a bachelor's degree in film production from Concordia University and specializes in documentary film. While juggling the numerous roles of screenwriter, director and sound recordist, the filmmaker is fond of social and historical subjects.
In 2018, he signed on with the content agency Toast and the Musée des maîtres et Artisans du Québec, the digital exhibition Savoir-Faire, consisting of 8 short films on intangible heritage. Chiliheads is his latest feature-length documentary to be released. Since 2016, Julien Fréchette has been the president and founder of La Pimenterie, a Quebec-based company that produces sauces and spicy products. Chiliheads is the film that embodies his two passions: cinema and hot peppers. We picked his brain about making the film and here's what Julien had to say.
How did you become involved with chili peppers?
As young as I could remember I always liked chili peppers. I must have been around 7-8 years old when I tried a hot sauce for the first time. My uncle used to pour almost a full bottle of Tabasco on his pizza. I remember watching him sweating, but still, he would pour more on it! I was intrigued by the phenomenon, so I figured that I had to  try it myself. One day, when my parents were away from home, I looked for Harissa paste in the pantry. I took a big chunk.  I remember it burned me, but I liked the way I felt afterward. So I tried again and again.
I haven't given up on chili pepper since then.
What draws you to chili peppers and the chilihead lifestyle?
I'm not sure if I consider myself a true chilihead, but I consider myself more a foodie with a true love for chili pepper! For me flavor is definitely more important than heat. I love spices in general and chili peppers are a wonderful addition to the spice bouquet.
What's fantastic about chili peppers are that they're a fruit and a spice at the same time.  it plays on two sides at the same time.
Why did you decide to make the film?
I was am independent  filmmaker first. I made several documentaries on various and diversified topics that interested me. Life brought me to the hot sauce industry through a very complex and weird path. After a tumultuous film shot in Iraq, I turned myself toward chili peppers (that thing could hurt, but not kill)  and I started my own hot sauce company as a way to ground myself for a while. Chili peppers and hot sauce have become the center of my life since then. Through my readings and research I discovered chili peppers was a deep enough subject to be the center of a film. It can be analyzed through different angles: history, sociology, science, psychology. It's a complex and funny fruit and it attracts a bunch of interesting humans around it.
I wanted to depict the story of chili peppers as a tale. A tale about a strange love affair between mankind and a little fruit that gives pleasure and pain (somehow the forbidden fruit). This film could be my last one, so I wanted to do a bridge between my two lives.
What was your biggest takeaway from making the film?
First, I feel blessed that I had the opportunity to do this movie and travel the world like I did. I came back from the last shoot in Trinidad on March 13, 2019. Literally a few days before we would fall into a pandemic and travels became impossible for a while! The timing was almost too perfect. That film was meant to happen just the way it did. Second, it was amazing experiencewise and foodwise!
Third, what struck me was to discover how deeply rooted chili pepper was in various cultures around the globe, but especially in Mexico. Chili pepper has been used for more than 5000 years over there and you can feel it when you eat their food and walk their market. It's not only an ingredient, it really is a cultural element.
And lastly, I started this film with a lot of curiosity. I ended it with even more. I feel I could do five more films on the subject!
Friday, March 4: 6pm
Saturday, March 5: 2pm and 4pm
Sunday, March 6: 1pm and 3pm
The following two tabs change content below.
Managing Editor | Mark is a freelance journalist based out of Los Angeles. He's our Do-It-Yourself specialist, and happily agrees to try pretty much every twisted project we come up with.
Latest posts by Mark Masker (see all)