Whether you're looking for a tailgate companion or just want a quick and easy camping solution, these portable grills are not your grandpa's rusty Weber from the '80s. When picking out a portable grill, think about your favorite things to cook. Do you like the convenience of propane or electric grills? Maybe you like the culinary experience of lighting a charcoal or pellet grill. Technology has come a long way in how barbecue products are designed and manufactured. You might like these grills so much that you give them a permanent residence on your back porch!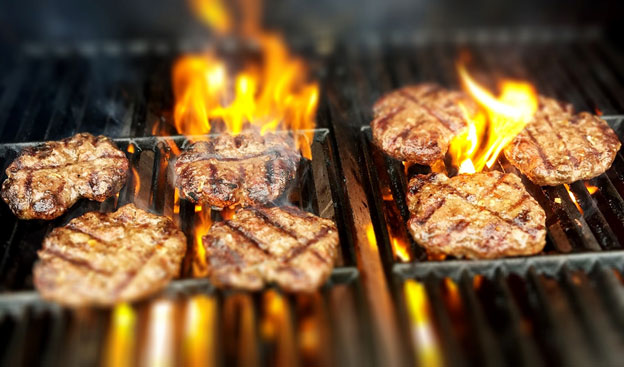 Photo Credit: Pixabay
Pellet Grills
If you grill a lot of high-end protein like premium steaks, pastured pork ribs, or whole chickens/ducks–you might really enjoy the pellet grills. Though the initial investment is a little higher, you'll never accidentally overcook a steak again! Enjoy delicious, mild smokey flavors and perfectly tenderized primal cuts. Slow cooking a 3lb brisket? The Traeger Ranger Portable Grill will do the work for you while you spend the day fishing.
Charcoal Grills
Charcoal grills are a true classic! Nothing beats a charcoal-grilled burger and a cold beer on a summer day. If you've got a tight budget and some pyrotechnic skills, you can create some pretty ingenious meals on a Weber charcoal grill. We recommend buying all-natural hardwood charcoal to get the least amount of carcinogens and the best flavor. Try roasting a whole trout on with some grilled pineapple. Love compact design and classic vintage colors? Check out the Everdure CUBE! Stylish, versatile, and affordable– this grill is sure to turn some heads at the tailgate party.
Is "slow and low" your go-to technique? BBQ some fancy pastured pork shoulder and some sweet potatoes on a kamado grill. This ceramic charcoal grill will lock in juices on your primal cuts. After learning the basics, you'll be able to throw in your favorite cuts before bed and have perfect BBQ ready the next morning.
Hosting a tailgate party at home with a portable grill on your patio or backyard? Crack a cold one and stay toasty with an outdoor heater. Whether you want a portable fire pit or a single standalone heat lamp, there are lots of great options for cooking in cold weather. Learn about how to navigate temperature fluctuations for your wintertime smoking or grilling sessions.
For "Slow and Low" Grill Masters
 These grills are perfect for slow-cooking. Whether you're a "set it and forget it" kind of chef or you like to experiment with marinades, time, and temperature—you'll be impressing your family and friends with delicious, restaurant-quality meals.
For High Heat Grill Masters
Use these grills for casual summer camping trips or for fun backyard cookouts. Easy to maintain and clean, these grills are low-maintenance and fun to use. Perfect for teaching your amateur grill-partner how to use charcoal or for keeping in the trunk of your car for an impromptu burger session.
For Quick, Convenient, and Versatile Grill Sessions
If you just want a simple "turnkey" grill that does the job quick and easy… these are perfect. These are easy to clean, safe, and quick to fire up.
Luxury Grills
Bored with traditional grills and want something glamorous to cook on? Try these grills and experience the joy of luxury grilling. These are sure to turn heads out on the boat or at the game. These make great gifts for that special someone who is notoriously hard to buy gifts for.
The Joy of the Grill
No matter which type of grill you choose, you'll love how quick and convenient it is to make healthy, nutritious meals. Keep your grill prepped and ready for a lunchtime T-bone and some grilled asparagus. Experience the joy of eating al-dente vegetables and tender, juicy proteins. You may find yourself eating less fast food, processed/canned food, and more fresh, whole foods. Grilling is a great way to get outside, meet new friends, and get more connected to the food you eat. Happy grilling!
The following two tabs change content below.
Publisher | Christened the "Pope of Peppers" by The New York Times, Dave DeWitt is a food historian and one of the foremost authorities in the world on chile peppers, spices, and spicy foods.
Latest posts by Dave DeWitt (see all)