Denny Morrison is a Canadian champion long-track speed skater with an Olympic gold medal to his credit. His second passion? Grilling. His food of choice: burgers. You can check out his favorite burger recipe here.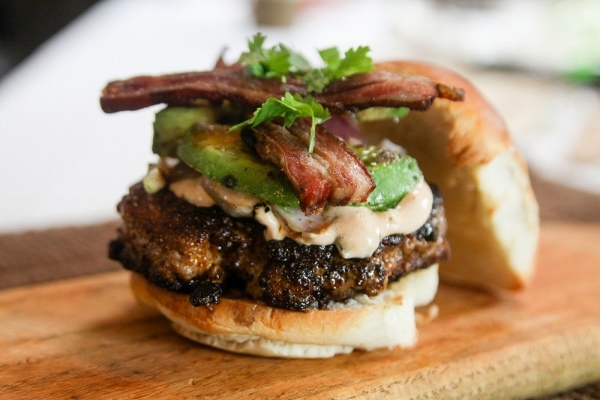 Morrison Burger Ingredients
1 lb. of lean or extra lean ground beef
3 handfuls of quick oats
1 egg
1 "sploosh" of milk
1 tsp. minced garlic
3-5 mushrooms, finely diced
1-2 jalapeño chilis, finely diced
6-9 splashes Worcestershire sauce
2-5 splashes hot sauce
1 tsp. each ground cayenne, oregano and thyme ½ tsp. each basil and sage
1 Tbsp. ground black pepper
2 tsp. chili powder
8 bread rolls of your choice
8 slices of cheese of your choice
1 large white onion, cut into rings
2 beefsteak tomatoes, cut into slices
2 ripe avocados
ketchup, mustard and relish
head of romaine lettuce
Instructions
Mix well all ingredients for the patties. Separate the meat into 8 round patties. Grill them at 375-450 F (or medium-high) for about 6 minutes. Flip the burgers and grill their opposite sides for about 6 minutes. Flip them again and add a slice of cheese per patty. Move all burgers to the side of the grill, but keep a burner on maximum and close the grill lid for 6 minutes. Remove them from the grill. Decorate the bottoms of the halved bread rolls first: Add 1 layer of relish, then 4-6 rings of onion and 3-4 strips of thinly sliced avocado.
Next, place the patties onto the bottom buns, cheese side down. Top them with ketchup and mustard smiley faces, one 1/8-in. slice of tomato, and 3-6 leaves of lettuce. Place the tops of buns gently onto the lettuce stacks, being careful not to spoil the burgers via tippage. Place the palm of your hand firmly on top of each burger and in a smooth, gentle, but forceful motion, compress each burger to half its original height.
The following two tabs change content below.
Publisher | Christened the "Pope of Peppers" by The New York Times, Dave DeWitt is a food historian and one of the foremost authorities in the world on chile peppers, spices, and spicy foods.
Latest posts by Dave DeWitt (see all)