This spicy ceviche from the southern Mexican state of Chiapas can be served on fresh greens for lunch or for a light dinner, accompanied by warm tortillas. Any of the fish substitutions will work equally as well in this dish. Note: This recipe requires advance preparation.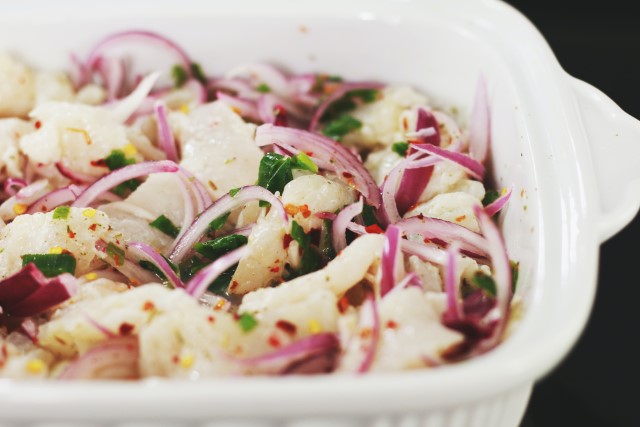 Ceviche de Mojarra Ingredients
2 pounds cichlid or sunfish fillets (or substitute freshwater fish: bass, perch, or pan fish)
4 jalapeño chiles, stems and seeds removed, minced
1 1/2 cups fresh lemon juice
1 cup chopped red onion or sweet onion
2 cups peeled, seeded, and chopped tomatoes
1 teaspoon salt
1/4 teaspoon freshly ground black pepper
1/2 cup chopped cilantro
3 tablespoons olive oil
2 cloves garlic, minced
1/2 cup chopped green olives
3 tablespoons mayonnaise
Instructions
Cut the fish into 1-inch pieces and place them in a shallow glass baking dish, such as Pyrex, pour the lemon juice over them and sprinkle with 1/2 of the minced jalapeños. Marinate the fish for one hour in the refrigerator. Then pour the fish and the marinade into a colander and let it drain for a few minutes. Carefully place the fish into a glass bowl and set aside.
In a small bowl, mix the onion, tomatoes, salt, black pepper, cilantro, olive oil, garlic and the remaining jalapeños together. Pour this mixture over the fish and mix gently.
Mix the green olives and the mayonaise together in a small bowl.
Serve the marinated fish on fresh greens with a dollop of the olive-mayonnaise mixture.
The following two tabs change content below.
Publisher | Christened the "Pope of Peppers" by The New York Times, Dave DeWitt is a food historian and one of the foremost authorities in the world on chile peppers, spices, and spicy foods.
Latest posts by Dave DeWitt (see all)