This Baja gazpacho is a refreshing and spicy blend of shrimp, avocado, tomatoes, cilantro and lime! Crab meat or lobster could be substituted for the shrimp. Don't substitute dried cilantro for fresh as the flavor will be entirely different. Serve with Chile Lime Garlic Shrimp to make an unforgettable shrimp cocktail.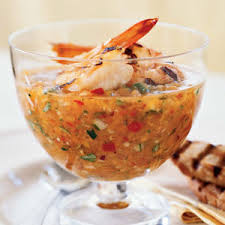 Baja Gazpacho Ingredients
For the gazpacho:
2 cups tomato & clam juice (Clamato)
1/2 cup chili sauce
4 large cloves garlic, minced (about 1 tablespoon)
4 green onions, finely diced
4 tablespoons minced jalapeño chile
3 avocados, seeded
1 cup seeded and diced plum tomatoes
1/2 cup finely diced red onion
1/2 cup peeled, seeded and chopped cucumber
1/2 cup finely diced green or red bell pepper
3 tablespoons fresh lime juice
2 tablespoons minced fresh flat-leaf parsley
1 tablespoon minced fresh cilantro
1 tablespoon extra virgin olive oil
1 tablespoon prepared horseradish, well drained
1 tablespoon Mexican hot sauce (Cholula, Búfalo, Tapatio, etc.)
2 teaspoons Worcestershire sauce
1/2 teaspoon dried oregano
2 tablespoons lime zest (for garnish)
2 tablespoons lemon zest (for garnish)
Instructions
Prepare the gazpacho by combining the ingredients in a large bowl, cover and refrigerate for at least one hour. (The sauce may be prepared two days in advance and stored, covered and refrigerated.)
Reserve six shrimp for each serving. Remove the tails from the remaining shrimp. Chop the shelled shrimp and add them to the sauce, stir to combine, and refrigerate, covered, at least two hours or up to eight hours.
Slice one of the avocados and dice the other two. Drizzle the avocados with lime juice to prevent discoloring. Add the diced avocado to the gazpacho. Equally divide and spoon the gazpacho into chilled glasses. Garnish the rim of each glass with Old Bay seasoning, tailed shrimp, an avocado slice, and fruit zest.
A couple of shots of tequila could be added to the gazpacho if desired. You don't need to use high-priced tequila as the flavor will be masked by the gazpacho.
The following two tabs change content below.
Publisher | Christened the "Pope of Peppers" by The New York Times, Dave DeWitt is a food historian and one of the foremost authorities in the world on chile peppers, spices, and spicy foods.
Latest posts by Dave DeWitt (see all)