We originally ran this chicken paprika with dumplings recipe over on our sister site, Fiery Foods and Barbecue Central. You'll find all kinds of cool uses for paprika there. But for now, enjoy this filling take on awesome poultry.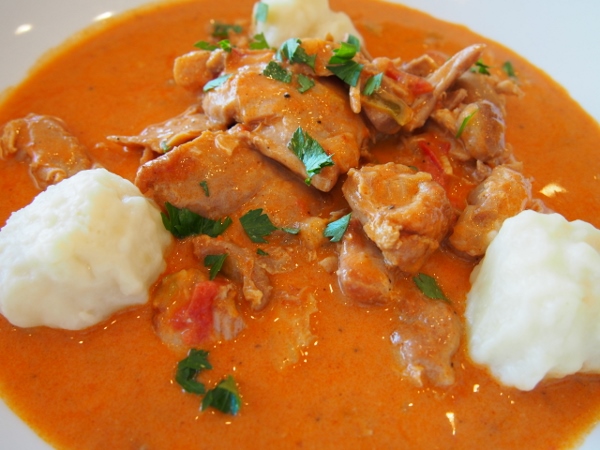 Chicken Paprika with Dumplings Ingredients
3 Tablespoons (or more) vegetable oil
1 chicken, cut up
1 large onion, chopped
3 cloves of garlic, minced
1/2 cup to 1 cup chicken stock
2 Tablespoons tomato paste
1/2 cup dry white wine
2 Tablespoons hot paprika) If not available, add regular paprika and 1 teaspoon cayenne)
pinch of thyme
1/2 cup sour cream
Thickening: 1 cup milk and 2 Tablespoons flour in a covered jar; shake hard before pouring into the sauce.
Dumplings:
1 egg
1 cup flour
1/4 teaspoon salt
1/4 teaspoon baking powder
1/4 cup tepid water
Instructions
Heat the oil in a large sauté pan; add the chicken and sauté on each side about 2 minutes, lightly add salt and pepper.
Remove the chicken to a bowl.
Add the onions to the pan and and sauté about 1 minute; add the garlic and sauté for 30  seconds.
Add the chicken back to the pan and add chicken stock,  tomato paste, wine, paprika, and thyme. It should barely cover the chicken. If it doesn't, add more wine or stock.
Cover and simmer 1/2 hour; turn chicken and simmer 1/2 hour more. Remove chicken to a warm platter.
Add the thickening to the pan slowly (you can even put it though a small strainer to avoid lumps) and stir constantly.
Turn down the heat to a low simmer and stir in the sour cream. Do not let it boil. If the mixture gets too thick, add more milk.
Return the chicken to the pan, cover and remove from the heat.
Put the cooked dumplings (recipe to follow) in the sauce to soak up the flavor.
To make the dumplings:
In a medium bowl, stir the egg until it breaks up. Add the next 3 ingredients and stir. Add the water to make a paste.
Drop by spoonfuls into salted, boiling water and cook until the dumplings rise to the top.
Drain in a colander and then add to the chicken and sauce.
The following two tabs change content below.
Publisher | Christened the "Pope of Peppers" by The New York Times, Dave DeWitt is a food historian and one of the foremost authorities in the world on chile peppers, spices, and spicy foods.
Latest posts by Dave DeWitt (see all)