Serve the salmon with asparagus cooked al dente and garlic mashed potatoes. Note: This recipe requires advance preparation.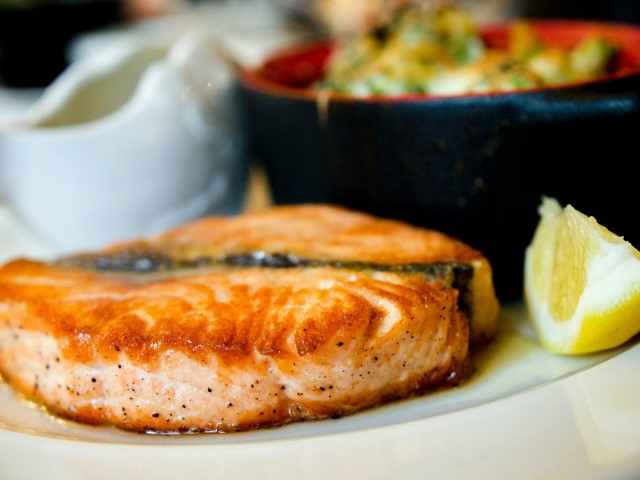 Salmon with Mango Chutney and Chipotle Ingredients
1 untreated cedar or other aromatic wood plank (18 x 8 x 1)
1 4 pound fresh sockeye salmon fillet with skin on
1-2 teaspoons sea salt and freshly ground pepper
1 12 oounce jar sweet mango chutney preserve
1 canned chipotle pepper (more if you like it hot!), finely minced
1/2 cup light brown sugar
2 teaspoons balsamic vinegar
1/3 cup orange juice
Instructions
Plank: Soak the wood plank in water for 24 hours in advance of grilling.
Salmon: Lightly salt and pepper the salmon fillet, cover and place in refrigerator.
Glaze: In a mixing bowl, combine and whisk together the chutney, chipotle, brown sugar, vinegar, and orange juice.
Grilling: Pre-heat grill (400-500°F).
Place the salmon on the plank skin side down and cover the salmon with the glaze and place plank on the grill and cover the grill. Cook for about 10 to 12 minutes at 400 to 500 degrees. The plank will begin to smoke at around 5 minutes but keep the grill covered. Check salmon at 10 minutes to see if the flesh begins to flake. If so, it's done. Turn off grill and gently remove the salmon from plank and place on a serving dish.
Photo by Krisztina Papp via Pexels
The following two tabs change content below.
Publisher | Christened the "Pope of Peppers" by The New York Times, Dave DeWitt is a food historian and one of the foremost authorities in the world on chile peppers, spices, and spicy foods.
Latest posts by Dave DeWitt (see all)