Hot and slightly sweet describes this Chile-Chicken Stir-Fry recipe.  Serve it with plain white rice. Eating the red chile pod pieces is not recommended.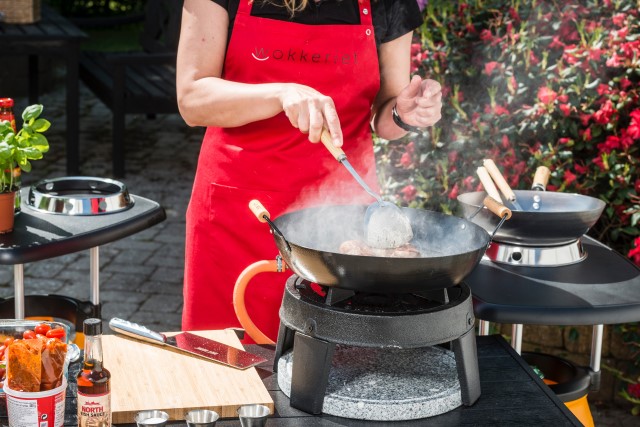 Chile-Chicken Stir-Fry Ingredients
3 cups chicken, cut into 1/2-inch cubes

1 tablespoon dark soy sauce

1/2 teaspoon salt

1 tablespoon white sugar

2 tablespoons cooking wine

2 teaspoons fresh ginger root, peeled and chopped

2 teaspoons scallions, chopped

2/3 cup dried hot red chile pepper pods, coarsely chopped

2 tablespoons Sichuan pepper, crushed
1/4 cup plus two tablespoons red chile oil (see recipe here)

2 tablespoons unsalted peanuts, chopped

1 tablespoon white sesame seeds

Cilantro sprigs for garnish
Instructions
In a bowl, combine the dark soy sauce, salt, sugar, cooking wine, ginger, and scallion. Mix in the cubed chicken and marinate in the refrigerator for 20 minutes.

In a wok or skillet, heat 1/4 cup of the red chile oil over high heat. When the chicken has marinated, place it into the hot oil and cook it quickly, stirring constantly. As the chicken is cooking, add the chile pepper pods and Sichuan pepper. Continue to cook until the chicken is done. Remove and place into a serving dish.

In a small skillet or heavy saucepan, heat 2 tablespoons of the chile oil and lightly fry the chopped peanuts and the sesame seeds. Remove from heat and sprinkle over the chicken before serving. Garnish with fresh cilantro.
The following two tabs change content below.
Publisher | Christened the "Pope of Peppers" by The New York Times, Dave DeWitt is a food historian and one of the foremost authorities in the world on chile peppers, spices, and spicy foods.
Latest posts by Dave DeWitt (see all)