Roasted coffee beans can be just as intense and flavor packed as the fresh spices I use in barbecue rubs, like cumin and peppercorns. Ground with a whole pack of spices, coffee adds richness and a toasty bitterness to this rub, my new favorite for beef and lamb. And roasted coffee and smoky chipotle together have as much jolt as a double espresso.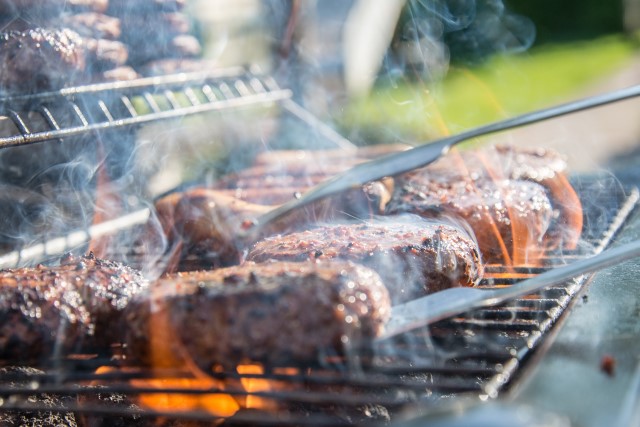 Coffee Spice-Rubbed Ribeye with Smoky Tomato/Red Chile Ingredients
For the Rub:
1/4 cup ancho chile powder
1/4 cup finely ground espresso-roast coffee beans
2 tablespoons sweet paprika
2 tablespoons dark brown sugar
1 tablespoon dry mustard
1 tablespoon salt
1 tablespoon freshly ground black pepper
1 tablespoon dried oregano
1 tablespoon ground coriander
2 teaspoons ground ginger
2 teaspoons chile de arbol powder
For the Salsa:
1/4 cup red wine vinegar
1/4 cup olive oil
2 teaspoons chipotle puree
3 ripe large tomatoes, diced
1 small red onion, halved and thinly sliced
1 serrano chile, seeded and finely chopped
1/4 cup chopped fresh cilantro leaves
2 teaspoons honey
Salt and freshly ground black pepper
For the Steaks:
2 (24-ounce) bone-in or (20-ounce) boneless ribeye steaks, cut 2 inches thick
Salt and coarsely ground black pepper
Coffee Spice-Rubbed Ribeye with Smoky Tomato/Red Chile Instructions
For the Rub:
Combine all the ingredients in a bowl or a jar with a tight-fitting lid and mix well.
Note: The rub keeps well for months, stored at room temperature in a jar with a tight-fitting lid.
For the Salsa:
Whisk together the vinegar, oil and chipotle puree in a medium bowl. Add the remaining ingredients and toss to combine. Season to taste with salt and pepper.
Note: The relish can be made a few hours in advance, covered, and kept refrigerated. Bring to room temperature before using.
For the Steaks:
Heat your grill to high.
Season the steaks with salt and pepper. Rub 2 tablespoons of the coffee rub onto one side of each steak. Grill the steaks rub side down, until lightly charred and crusty, 4 to 5 minutes. Turn the steaks over, reduce the heat to medium or move to a cooler part of the grill, close the grill hood, and grill until medium-rare, 8 to 10 minutes more.
Remove the steaks from the grill and let rest for 5 minutes.
Cut the steaks into 1-inch-thick slices and serve immediately, topped with tomato salsa.
Photo by Skitterphoto via Pexels
The following two tabs change content below.
Publisher | Christened the "Pope of Peppers" by The New York Times, Dave DeWitt is a food historian and one of the foremost authorities in the world on chile peppers, spices, and spicy foods.
Latest posts by Dave DeWitt (see all)