This is an exciting blend of fresh, light flavors that makes a great beginning-of-the-meal palate stimulator during the summer. It has beautiful color and a slight bite from the ginger. A thinly sliced lime wheel makes an excellent garnish when floated on the soup with a dollop of sour cream.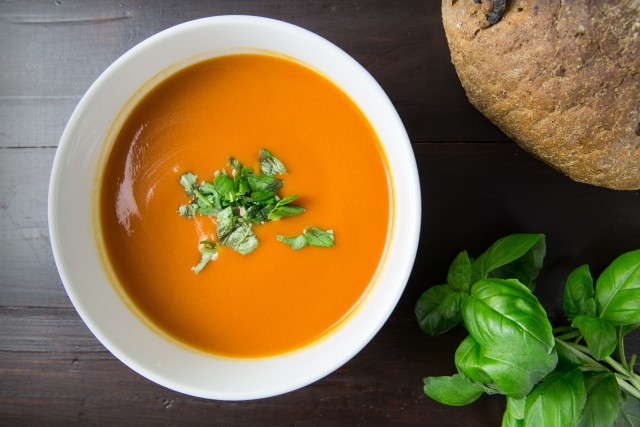 Tomato-Orange Ginger Soup Ingredients
•    2 medium onions, peeled and chopped fine
•    3 cloves garlic, chopped fine
•    1/8 pound sweet butter
•    Zest of ½ medium orange
•    6 cups quarts pureed fresh tomatoes
•    1 5-ounce can tomato paste
•    6 cups freshly squeezed orange juice
•    1 teaspoon ground ginger
•    1 tablespoon finely grated fresh ginger
•    1/4 teaspoon white pepper
•    ½ teaspoon salt
•    3/4 tablespoon salt
•    Cayenne to taste

Instructions
Sauté the onion and garlic lightly in the butter but do not brown. Add the zest and stir well.

Transfer to a large pot or stock pot and add the remaining ingredients and stir well. Bring almost to a boil, lower the heat, and simmer for 15 minutes.

Serve hot or allow to cool before serving.
Photo by Foodie Factor from Pexels
The following two tabs change content below.
Publisher | Christened the "Pope of Peppers" by The New York Times, Dave DeWitt is a food historian and one of the foremost authorities in the world on chile peppers, spices, and spicy foods.
Latest posts by Dave DeWitt (see all)