These spicy beef kebabs can be found on the island of St. Croix, as well as many other islands, where fruits abound. Because of the abundance of tropical fruits, the combination of meat and fruit is not that unusual, especially with the addition of a Caribbean habanero hot sauce or the peppers themselves. Serve the kebabs with a rice dish and a cool-down salad. Note: This recipe requires advance preparation.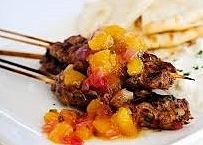 Beef Kebabs Tropicale Ingredients
1 ripe mango, peeled and seed removed
1 clove garlic, peeled
3 scallions, peeled and white part reserved
2 tablespoons brown sugar
2 Scotch bonnet (or habanero) chiles, stemmed and seeded
2 tablespoons fresh lemon juice
2 tablespoons fresh lime juice
1/4 cup dry white wine
1/4 cup passion fruit juice (available in most Latin American and Caribbean markets)
3 tablespoons vegetable oil
3 pounds sirloin steak, fat removed, and cut into 1 inch cubes
1 large pineapple, peeled, cored, and cut into 1 1/2 inch cubes
3 small partially ripe papayas, peeled, seeded, and cut into large cubes of 1 1/2 inches
3 sweet white onions, peeled and cut into quarters and separated
Instructions
In a food processor or blender, puree the mango, garlic, scallions, brown sugar, chiles, lemon juice, lime juice, white wine, passion flower juice, and oil to make a marinade. Spread the cubed meat out evenly in a large glass or Pyrex shallow baking dish and pour the marinade over the meat. Pierce the meat marinade mixture with a fork, and then cover and refrigerate the mixture 4 to 6 hours.
Remove the meat marinade from the refrigerator and allow the meat to sit at room temperature for 10 minutes before putting the meat on the skewers to grill.
On skewers, alternate the meat, pineapple, papaya, and onion pieces. Broil the skewers in an oven broiler or on an outdoor grill, for 8 to 10 minutes (depending on how well you want the meat done). Serve hot off of the grill.
The following two tabs change content below.
Publisher | Christened the "Pope of Peppers" by The New York Times, Dave DeWitt is a food historian and one of the foremost authorities in the world on chile peppers, spices, and spicy foods.
Latest posts by Dave DeWitt (see all)