This quick and easy basic salad can be changed by using a different salsa to dress the noodles. Try a commercial peanut-based salsa and if your salsa is too thick, thin with a little oil or vinegar.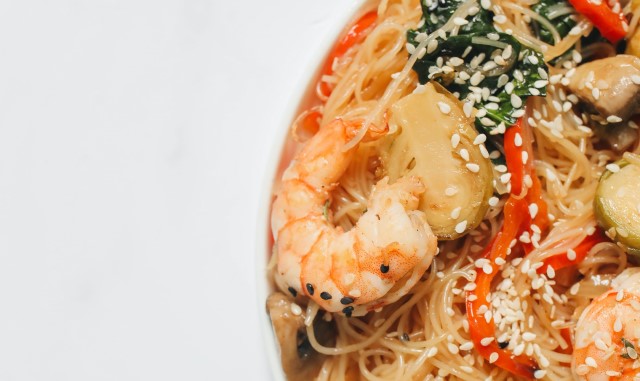 Noodle and Shrimp Salad with Oriental Cucumber Salsa Ingredients
For the Salad:
•    2 cups cooked vermicelli or Chinese noodles
•    ½ cup cooked shrimp
•    1 recipe Cucumber Relish (see recipe below)
•    1/4 cup chopped peanuts
•    Chopped fresh cilantro
For the Relish:
•    3 serrano or Thai green chiles, stems removed, minced
•    1 large cucumber, peeled and finely diced
•    1/4 cup shredded carrots
•    4 green onions, chopped, including the tops
•    2 tablespoons vinegar
•    1 tablespoon peanut oil
•    1 teaspoon soy sauce
•    1 teaspoon minced fresh ginger
•    ½ teaspoon sesame oil
•    ½ teaspoon sugar
Instructions
Combine all the ingredients for the relish and allow to sit for at least an hour to blend the flavors.
Toss the noodles with the shrimp and cucumber relish. Garnish with the peanuts and cilantro and serve.
Photo by Polina Tankilevitch from Pexels.
The following two tabs change content below.
Publisher | Christened the "Pope of Peppers" by The New York Times, Dave DeWitt is a food historian and one of the foremost authorities in the world on chile peppers, spices, and spicy foods.
Latest posts by Dave DeWitt (see all)