If you're into grilling, odds are that you've heard of the Big Green Egg. You may even own one. In a nutshell (or eggshell, if you will), it's a thick-walled ceramic barbecue with a rounded shape and domed lid traditionally known as a kamado. This type of cooker is believed to have originated in China, though the remains of rounded earthen cooking vessels have been found in the ruins of most ancient civilizations.
Combining the features of a charcoal grill, a smoker, and an oven, Big Green Eggs are available in five sizes and run between about $500 to a little over $1000 for the extra-large Egg. Because they're ceramic, these suckers are heavy; the large Egg weighs in at 140 pounds. You can add all kinds of nifty EGGcessories to expand the Egg's functionality. There's a popular online forum for Egg owners, a cookbook just for the BGE, and you can go to special events like the 14th Annual EGGtoberfest in Atlanta, Georgia.  In short, owning a Big Green Egg can spiral pretty quickly from hobby into obsession. We hear there's a secret handshake too.
On October 14 and 15, the Atlanta Motor Speedway makes room for EGGheads and their Eggs. Last year more than 200 Eggs were fired up for the two-day cooking extravaganza, where guests can learn about Big Green Eggs, sample some of the food cooked on them, and generally drink the Egg-flavored Kool-Aid. There's more information on Eggtoberfest here.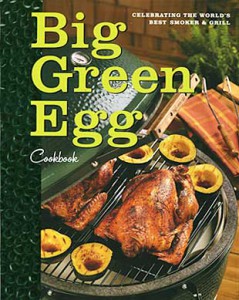 If you're already an Egg lover, you can read an excerpt and sample recipes from the Big Green EggCookbook on the SuperSite here. Ray Lampe, alias Dr. BBQ, is the longtime spokeschef for Big Green Egg and often can be found promoting the Egg at events. His great website is here. You can watch an intro video about kamado cookers on the BBQ Guys website here. The Big Green Egg's home page is here. So start practicing your secret handshake and head to Atlanta for EGGtoberfest!
The following two tabs change content below.
Publisher | Christened the "Pope of Peppers" by The New York Times, Dave DeWitt is a food historian and one of the foremost authorities in the world on chile peppers, spices, and spicy foods.
Latest posts by Dave DeWitt (see all)