Once upon a time, an innocent blog editor was walking through a dark forest (okay, it wasn't a forest, it was Twitter), when she was offered a pretty jar of jelly by an evil witch, who told her it was made from ghost peppers (well, it wasn't actually a witch, it was Suzanne from Suzanne's Kitchen. Whether or not she's evil is beyond the scope of this blog post. She seems very nice.).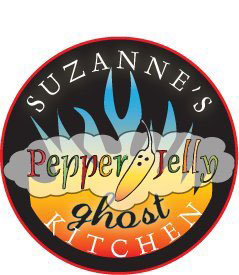 Being dangerously curious and not too bright, the editor carried the jar home and opened the lid. Inside was a beautiful reddish-gold, sweet-smelling jam studded with little red flakes and pretty yellow seeds. She spread it on a piece of buttered toast and took a small bite. The fruity, chile essence tasted wonderful, and as she chewed, the editor began to wonder what the big deal was about ghost peppers.
The heat began to rise in her mouth, typical of this kind of treat. But then, like a spirit taking flight, the heat level rose higher…and higher—to the point where the editor's mouth began to really burn. Then the heat kept increasing! "Uh oh," she thought. Now the fear began to set in, and she realized that this ghost pepper stuff was scary.
Fortunately, right before she had to run for the ice cream, the fire began to subside. It diminished quickly down to a manageable degree of warmth and she breathed a sigh of relief, realizing that this delicious jelly wasn't scary after all. Then she took another bite! The End.
So, back to the witch…I mean, Suzanne. Inspired by her mother, who she remembers making pepper jelly by putting jalapeños through a meat grinder, Suzanne began offering a line of jellies in 3 varying degrees of heat: Pepper Jelly Heaven (mild), Purgatory (medium), and Pepper Jelly Hell (hot). She's about to add a fourth level of heat to her line, which is where the ghost comes in.
Says Suzanne, "I really like the ghost. It has a different taste and I think you can taste the peppers in all our jellies. This makes our jelly unique in the pepper jelly market. I was never able to find one that tasted like peppers!" She plans to release the new ghost jelly in time for Christmas. Check her website pepperjellyheaven.com to find out when the ghost will appear.
In the meantime, you can try some of Suzanne's other jellies. Here are a couple of recipes from her website:
Chef Alba's Bloody Hell Mary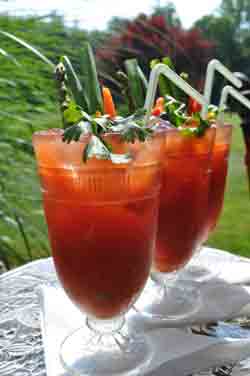 1 1/2 ounces vodka
1 teaspoon Pepper Jelly Hell
3 ounces tomato juice
1/2 ounce fresh lemon juice
3-4 drops Worcestershire
Freshly ground black pepper
2 pinches celery salt
Tabasco or harissa sauce to taste
Warm the pepper jelly for 15 seconds in the microwave and combine with the vodka. Combine all the remaining ingredients in a mixing glass and shake well.
Pour all into a pint or highball glass filled with ice. Garnish with a selection of healthy and edible vegetables.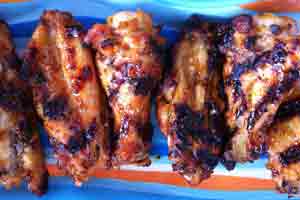 Buffalo Wings in Hell
(or Purgatory or Heaven)
5 lbs. chicken wingettes
Salt and Pepper
1 10-ounce bottle of your favorite hot sauce
1 9-ounce jar of Suzanne's Kitchen Pepper Jelly
1 teaspoon of salt
2 tablespoons of water
On a cookie sheet, season the wings with salt and pepper. Bake the chicken wings for 40 minutes at 350 degrees F. or according to package instructions.
While the chicken is baking, preheat your grill and melt pepper jelly in the microwave for approximately 2 minutes. Thin the jelly with the water and add the salt.
When the wings are out of the oven, toss them with a bottle of hot sauce,* then grill until well-charred. Extinguish flame and baste both sides of the wings liberally with the pepper jelly mixture. Enjoy the best wings you have ever had!
Serves 6-12
*Suzanne's tip: stop here and you can store in fridge up to 2 days, and finish on your grill at a tailgate or party!
The following two tabs change content below.
Lois Manno
Lois is the Editorial Director of the Burn! Blog and the Fiery Foods & BBQ SuperSite.
Latest posts by Lois Manno (see all)