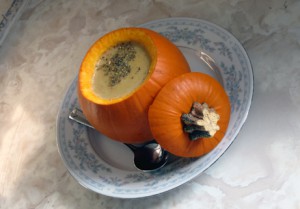 After the Maple Pumpkin Pie recipe went up, we received feedback from as far away as Ireland, where a mysterious stranger calling him/herself Chilli Ninja posted this: "Pumpkin meals are not very common in Ireland, but this recipe sounds really interesting. I had an American teacher in primary school who brought in pumpkin pie for us all. Have you tried any chilli pumpkin dishes?"
Here are a few spicy recipes—appropriate for holiday entertaining—that feature pumpkin as an ingredient. Enjoy!
Chorizo Pumpkin Soup
1/4 pound chorizo sausage (or other hot sausage), casing removed, and crumbled
1 large onion, coarsely chopped
1 stalk celery, coarsely chopped
4 cups of Chicken Stock
2 1/2 pounds pumpkin, peeled, seeded and cut into 1/2-inch cubes (about 6 cups)
2 large carrots, peeled and coarsely chopped
1/2 cup light cream
2 tablespoons butter
Salt and ground white pepper
In a large, heavy soup pot, sauté the sausage for 1 to 2 minutes. Add the onion and celery and cook them until the onions are translucent. Add the broth, squash, and carrots, then cover the mixture and simmer until the squash is tender. Remove it from the heat, cool it slightly, then puree it in small batches in a blender.
Return the soup to the saucepan, then add the hot sauce, and reheat it. If desired, add the cream and the butter. Finally, add the salt and pepper to taste and serve. If pumpkins aren't available, you can substitute acorn squash. The soup may be made ahead and frozen, minus the cream, butter, and hot sauce, which can be added later.
Yield: 6 servings
Heat Scale: Medium
Brilliant Bayou Pumpkin Seed Snack
This recipe, along with other sizzling holiday snacks, can be found in the article Sizzling Snacks for Holiday Entertaining by Dave DeWitt on the Fiery Foods & BBQ SuperSite.
1 egg white
2 teaspoons commercial Cajun seasoning powder
1 teaspoon safflower oil
8 ounces shelled, unsalted pumpkin seeds
1 teaspoon salt
8 ounces lite cream cheese, softened
Fancy crackers
Cayenne powder to taste
Preheat the oven to 350 degrees F. In a medium bowl, whisk together the egg white, cajun seasoning, and safflower oil. Add the pumpkin seeds and stir to coat.  Spread the seeds on a non-stick baking sheet, and sprinkle with the salt.  Bake the seeds for 15 minutes, stirring every 5 minutes.
Remove the seeds from the oven and let sit for 5 minutes.  Place them in the refrigerator if you need them to cook down quickly.
Place the softened brick of lite cream cheese in a medium mixing bowl.  Stir the seeds into the cream cheese and then place the mixture into a small, attractive serving dish.  Place the dish on a platter and then put the crackers around the dish.
Serves 4
Heat Scale: mild
Pumpkin Dip (Ajlouke et Potiron)
Tunisian harissa (see recipe below) and other spices transform the ordinary pumpkin into a characterful dish that is eaten cold with bread.  Some African chefs even reserve the liquid from the pumpkin to use in soups or casseroles.
1 1/2 pound piece pumpkin, or 24 ounce canned pumpkin
3/4 teaspoon caraway seeds
3/4 teaspoon ground coriander
1 1/2 tablespoons olive oil
1 clove garlic, chopped
1 teaspoon harissa, or more to taste
2 teaspoons lemon juice
Salt to taste
Peel the pumpkin and remove the seeds and threads.  Chop the flesh and cook gently in a little water in a covered pan until tender.  Drain thoroughly.
In a large pan, gently heat the oil, add the caraway seeds and coriander, stirring occasionally until fragrant.  Then add the pumpkin, garlic, harissa, lemon juice and salt.  Remove the pan from the heat, mash all the ingredients together, then leave to cool.
Harissa
This recipe and others can be found in the following article:
Moroccan Tagines by Nancy Gerlach
Tagines or tajines are wonderfully aromatic North African stews that combine meats, poultry, chicken, or fish with fruits, vegetables and a large variety of spices. The centerpiece of Moroccan meals, there are literally hundreds of traditional tagines as well as many regional variations
7 dried red New Mexican chiles, stems and seeds removed; or substitute 5 small hot chiles like piquins
1 tablespoon ground paprika
2 tablespoons extra-virgin olive oil
5 cloves garlic, peeled
1 teaspoon cumin seeds; or substitute 1/2 teaspoon ground cumin
1 teaspoon ground coriander
1/2 teaspoon caraway seeds
2 tablespoons lemon juice, preferably fresh
1 tablespoon chopped fresh mint (optional)
1 teaspoon salt
1 teaspoon freshly ground olive oil
Place the chiles in a bowl and cover them with very hot water. Allow the chiles to steep for 15 to 20 minutes to soften. Drain the chiles and discard the water.
Place all the ingredients, except the oil, in a blender or food processor and puree until smooth. With the motor running, add the oil in a steady stream to form a thick sauce.
This sauce may be stored, covered, in the refrigerator for up to 3 weeks. Be sure to cover the top with a couple of drops of olive oil to prevent the harissa from turning brown.
Heat Scale: 4
Makes1/3 to 1/2 cup
The following two tabs change content below.
Managing Editor | Mark is a freelance journalist based out of Los Angeles. He's our Do-It-Yourself specialist, and happily agrees to try pretty much every twisted project we come up with.
Latest posts by Mark Masker (see all)