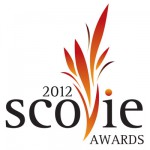 Competition was particularly fierce for the 2012 awards, with product entries up 177 over 2011. In all, 161 companies entered 792 products for a chance at Scovie glory. Dave DeWitt, founder of the Scovie Awards and National Fiery Foods and Barbecue Show said entries came from 38 states and four countries including Australia, Sweden, Canada and the United States.
Congratulations to the Grand Prize winners—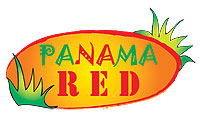 TASTING DIVISION:
Panama Red Hot Sauce
PanCali Foods LLC
Mike "KCK" Bross, Eddie "TPB" O'Keeffe, and Eibar Flores
www.pancalifoods.com
Q. What do you get when you combine a couple of chilehead cousins and a batch of Panamanian hot chiles?
A. Possibly the best hot sauce on the planet.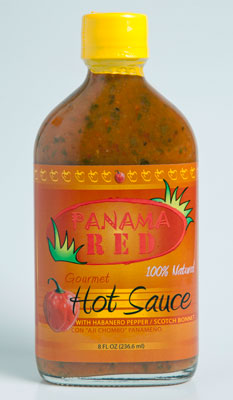 In the 16-year history of the Scovie Awards, Panama Red is only the third hot sauce to win the coveted "Grand Champion" title. What's their secret? The ingredients listed on the bottle are fairly straightforward and—aside from the unique chiles—typical of many hot sauces: Vinegar, Aji Chombo Pepper, Onion, Mustard, Water, Garlic, Celery, Culantro, Salt, Black Pepper, Sugar. No Artificial Colors, Flavors or Preservatives Added.
Here's a description from the website: "Panama Red is 100% all natural sauce made with the Magical Panamanian 'Aji Chombo' Pepper. What is so magical about the pepper, you ask? Well, the flavor is unique and magical enough by itself but the real magic that sets the pepper apart is the ability to bring the heat initially but quickly dissipate. You won't need a gallon of milk or any other extinguisher to get rid of the heat; it naturally goes away, only enhancing the flavor of whatever it is being used on."
Here's my evaluation: the label is beautifully designed, and the sauce itself is very appetizing because you can see red flakes of chile, green herbs, and black pepper floating in a thick, golden base. The flavor is equally impressive: first you're nipped by robust habanero-style heat carried on a vinegar wave, but the real treat comes from the flavors that follow. Round, full accents of garlic, herbs, and black pepper merge with the chile to create a rare depth of flavor that is the signature of a truly great hot sauce.
Whatever type of Panamanian jungle magic they've tapped into over at Panama Red, all we can say is…it's working! Get your own bottle of Aji Chombo magic at www.panamaredhotsauce.com.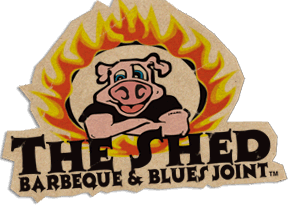 ADVERTISING & MARKETING DIVISION:
BBQ Sauce Paint Can with Brush
The Shed BBQ & Blues Joint
Brad Orrison; http://www.theshedbbq.com/
Don't you dare call The Shed a restaurant. It's a joint. The first one cropped up in Ocean Springs, Mississippi, but now there are four other joints—in Florida, Alabama, and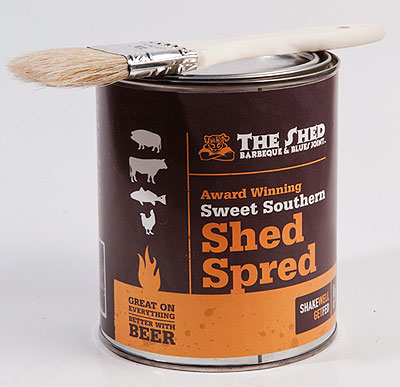 Louisiana. Brad Orrison and his two siblings Brooke and Brett (what's the deal about family groups winning Scovie Awards?) have taken the classic American honkeytonk to a whole new level, combining award-winning barbecue with top-flight blues music played live, as God intended it. One look at their website tells you that The Shed must be a damn fun place to grab a bite and kick back. They even have a posse of fans that go from joint to joint called "Shedhoppers," who are sort of like Deadheads (but with better music).
Considering that The Shed's initial "design concept" was based on the fact that its owner was a compulsive junk collector—what many folks call a "picker"—it's no surprise that their winning package is based on a paint can. But don't worry, these are brand-new food-grade cans that have never held paint!
Each can is filled with the award-winning "Shed Spred" sweet Southern BBQ Sauce and comes with its own paint brush for slathering. These are so new, they're not available for sale just yet, but according to Linda "Mama" Orrison, they will be "very soon." The cans will come in both quart and gallon size. Watch their online store at www.theshedbbq.com and be the first pitmaster on your block to have a can.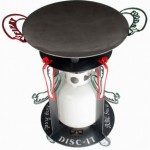 The Grand Prize Winners above will each receive a Disc-It, the latest totally cool patio cooker. Provided by Disc-It. You can read more about the unit here.
DeWitt, the "Pope of Peppers," was pleased with the variety and quality of the entries. "It's thrilling to see more entries than ever in our sixteenth year of the Scovie Awards. I'm always impressed by the creative new ideas and delicious ways people showcase fiery foods," DeWitt said.
Guests can sample and buy Scovie Award-winning products at the upcoming 2012 National Fiery Foods & Barbecue Show (March 2-4, 2012) at Sandia Resort and Casino in Albuquerque, New Mexico. Vendors from across the country will be in attendance. For more information please visit: www.fieryfoodsshow.com. You can see the complete list of Scovie winners (with links to their websites) at www.scovieawards.com.
The following two tabs change content below.
Lois Manno
Lois is the Editorial Director of the Burn! Blog and the Fiery Foods & BBQ SuperSite.
Latest posts by Lois Manno (see all)