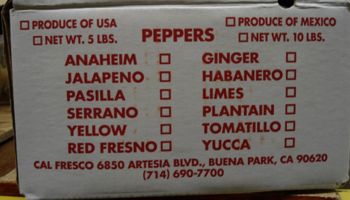 Just when you thought all you had to worry about were the Christmas presents you still haven't picked up, along comes another salmonella scare. This one, however, is truly scary…because it involves chile peppers. Merry forking Christmas from Mexico's chile fields to your home!
Cal Fresco of Buena Park, CA, is recalling fresh jalapeño and serrano chile peppers, sold unlabeled in bulk in the U.S. and Canada, after the Food and Drug Administration (FDA) said a random sample tested positive for Salmonella. Fortunately, nobody has gotten sick…yet.
The Jalapeño Recall
Cal Fresco said the jalapeño recall involves about 18,500 pounds of peppers imported from Mexico—lot 205610—distributed to retail stores in California, Oregon, Washington, Texas and Canada between Dec. 3 and Dec. 5, 2011. These chiles were sold in bulk bins in the produce section of several markets, including Safeway. If you bought any bulk jalapeño peppers between December 3rd and the 21st, you should contact the store to see if they were part of the recalled lot. If so, return them to the store for a refund. DO NOT COOK WITH THEM.
In Canada, the government said the peppers were sold unlabeled in bulk at Safeway stores and various independent grocery stores in Alberta, British Columbia, Manitoba, Northwest Territories, Ontario, Saskatchewan and Yukon, from Dec. 3 to 20. They were also sold unlabeled from bulk or in 4.5 kg Cal Fresco brand cases at Loblaws banners (Extra Foods, No Frills, Real Canadian Wholesale Club, Shop Easy, SuperValu, Real Canadian Superstore, Lucky Dollar and Your Independent Grocer) in Alberta, British Columbia, Manitoba and Saskatchewan, from Dec. 3 to 20, 2011.
The Serrano Recall
Serrano chiles also tested positive for salmonella contamination. The potentially contaminated serrano peppers were part of lot number 205467, originating in Mexico. the company said it has stopped distributing produce from this supplier, which it did not identify, while the investigation into the source of the contamination is underway.
The serranos were distributed in Edmonton, Winnipeg and Vancouver, Canada, and in Southern California, Alaska, Washington and Dallas, Texas. The peppers were likely sold at the retail level in bulk by weight with no retail packaging.
Cal Fresco said it has notified all retail suppliers who received the recalled serrano peppers and directed them to immediately remove and destroy any remaining peppers in their inventories.
The company advised consumers who purchased serrano peppers between Dec. 8 and Dec. 21 to contact the store and inquire if they had sold any from the recalled lot. If so, customers should discard the peppers or return them to that store for a refund.
Consumer questions may be directed to Cal Fresco at 714-690-7700 between 5 a.m. and 1 p.m. PST.
The following two tabs change content below.
Managing Editor | Mark is a freelance journalist based out of Los Angeles. He's our Do-It-Yourself specialist, and happily agrees to try pretty much every twisted project we come up with.
Latest posts by Mark Masker (see all)