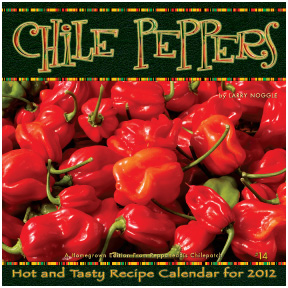 Now that the packages have been unwrapped and the stockings emptied, you no doubt have at least one gift card from Amazon or your favorite bookstore burning a hole in your pocket. Channel that fiery energy into a gift that will give you twelve full months of chilehead entertainment: a 2012 Chile Peppers Calendar from Mr. Peppahead, Larry Noggle.
Now in its 14th year, this full-color calendar from Zebra Publishing features gorgeous chile photos and delicious recipes. Photographer and chile gardener Larry Noggle is also the proprietor of Peppahead.com, the online store for sauces, rubs, gift items, and more. Noggle uses as his subjects chile peppers grown in his own garden in southern California.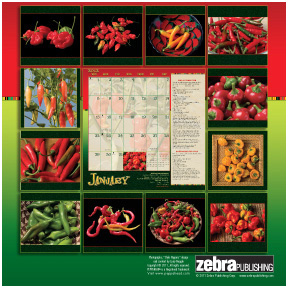 The chiles are beautifully shot, the page layouts are colorful and dynamic, and each month features mouth-watering recipes. What more could you ask of a calendar?
It sells out, so order yours soon! You can buy one directly from Peppahead.com, or find it on Amazon.com here.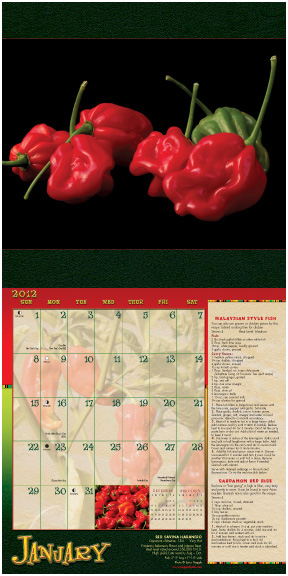 The following two tabs change content below.
Lois Manno
Lois is the Editorial Director of the Burn! Blog and the Fiery Foods & BBQ SuperSite.
Latest posts by Lois Manno (see all)