By the ABQ Beer Geek, Patrick Cavanaugh
Photos by Wes Naman
Picture charred shirtsleeves, sliced fingers, and hot-oil forehead splatter-burns that left me looking like a reject from Ash Wednesday services.
No, it's not a setup for a joke by the Amazing Carnac, but a list of the injuries suffered while trying to amass beer and food parings for this article. Initially, I wanted to lay blame on inadequate cooking conditions. After all, Bobby Flay gets a whole test kitchen with numerous stoves and gadgets. I get a toaster oven. But at the point where my idea of frying potato slices in the crockpot was not coming to fruition, I realized that my inept cooking skills were the culprit all along.
Luckily, beer is pre-cooked and comes with no assembly required. I enlisted the help of friends with promises of free beer in exchange for their cooking prowess. I got a head start on the beer drinking while fielding questions like, "Hey man, where are all your knives??" (I threw them all out when I got mad after cutting myself), and taking barbs such as, "Your fridge contains nothing of nutritional value. Everything in it is either fossilized or fermented!"  At this point I should note: everything tested for this article was bought fresh.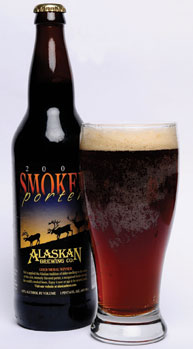 Beer, popcorn, and bacon? Hell, yeah.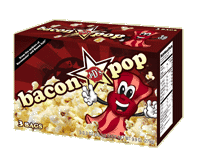 The first pairing we tried out was a dish that even I could prepare: microwave popcorn. Not your ordinary butter flavored style, mind you.  This popcorn combines the flavors of cheddar cheese and…bacon? Yes! Formerly a snack flavor reserved for dog treats, you can now get bacon-flavored popcorn online from J&D's at www.baconpop.com. While there may not be a bacon-flavored beer (yet), I found the perfect mate for the smoky, savory characteristics of the popcorn: Alaskan Smoked Porter from Juneau www.alaskanbeer.com. Not just your standard porter, this beer has earned a medal an astounding eighteen times at the prestigious Great American Beer Festival and sets the standard that all other American smoked beers try to live up to. Alaskan's take on this style—known as Rauchbier in its homeland of Bamberg, Germany—uses malts that have been roasted for 2.5 to 3 hours until black, then placed into a commercial food smoker to attain the rich flavor. The whole process takes about 48 hours from prep to drying. My next experiment with this pairing will be finding a way to sneak them both into a movie theater.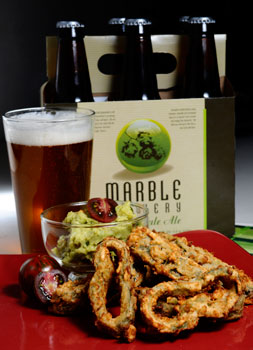 A dry, floral IPA from Marble is sure to satisfy.
For the second course of the beer/food pairing, it was time to see whether a beer could tame the heat of poblano peppers. While poblanos are relatively mild—measuring about the same as jalapeños on the Scoville scale—the way we prepared them turned basic chiles into irresistible munchies. As you spicy snack veterans know, heat can build up on the tongue and become a fire once you stop eating. We sliced the poblanos, dusted them with cayenne, and fried 'em up. I chose the IPA from Albuquerque, New Mexico's upstart Marble Brewery to complement the poblanos www.marblebrewery.com. Marble's IPA is the flagship for this three-year-old brewery that is gaining national recognition not only for their hoppy concoctions, but also for their stout and wood-aged beers. IPAs in general tend to stand up well when paired with spicy foods, but I chose Marble's version for its delicious dry finish. Some IPAs use darker malts that bring out a sweetness that I find undesirable when pairing with spicy foods. Marble's recipe incorporates pale malt that lets the floral and citrusy hops be the star, which melded perfectly with the kick from the poblanos and cayenne.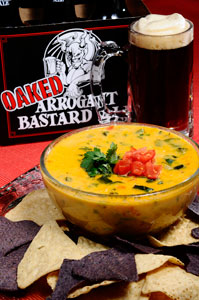 Chile con queso: the all-American treat!
Ok, perhaps not, but we Americans do love us some spicy cheese dip.  On Super Bowl Sunday, a big container of chile con queso is my very own "Super Bowl", and I win every time. Thankfully, this recipe makes no use of big hunks of processed cheese. Our chile con queso was made with the pleasant Chihuahua cheese of Mexico. Not only does the cheese have good flavor, it doesn't harden seconds after removing it from heat like the processed ones do. We used both jalapeños and poblanos in the queso, which I matched with Stone's Oaked Arrogant Bastard, www.stonebrew.com. A spinoff of Stone's bestselling Arrogant Bastard, the oak-aged version may have enough oak quality to make even the snobbiest of your wine snob friends willing to put down their Riedel glass and pair a pint with the spicy dip. American oak chips meld with the brew for three days to impart the flavor that has Sonoma swooning. This 7.2% American Strong Ale is highly hopped, yet has a strong malt backbone and those oak undertones that pair perfectly with the Chihuahua cheese. Eat as much queso as you care to, but beware of the sneaky Oaked Arrogant Bastard, as it drinks way too easily for a 7.2% beer.
As with any pairing article, the beers suggested are just that, suggestions. Very good ones, if I do say so, but craft beer is all about experimenting and finding what suits your tastes.  The most helpful hint I can give when it comes to beer and food pairings is to keep the food offerings light. Heavy food fills you up and makes you bloated, which can really inhibit a good beer buzz!
Sonoran-Style Chile with Cheese
(Chile con Queso Estilo Sonora)
Who could ask for a more perfect combination than chile and cheese? This recipe is a specialty of the Sonora area, which has millions of acres of agricultural land along the coastal plains. Serve this with tortilla strips or chips for dipping.
2 tablespoons butter
1 medium onion, peeled and chopped
2 tomatoes, chopped
4 cloves garlic, peeled and finely chopped
3 poblano chiles, roasted, peeled, stems and seeds removed, chopped
2 jalapeño chiles, stems and seeds removed, minced
3⁄4 cup milk
Salt to taste
Freshly ground black pepper to taste
2 cups grated Chihuahua cheese or mild cheddar
2 tablespoons chopped cilantro
1 small tomato for garnish
Melt the butter in a skillet. Add the onion, tomatoes, and garlic and sauté until the onions are translucent. Add the chiles, milk, salt, pepper. Let this mixture cook for a few minutes so that the flavors blend, then add the cheese, stirring well.
Remove the skillet from the heat and transfer the mixture to a glass bowl. Garnish with the cilantro and tomato.
Yield: 4-6 servings
Heat Scale: Medium
Poblano Pepper Rings
Since poblanos make some of the tastiest chiles rellenos, it makes sense that they fry up deliciously. Why not dip these rings in guacamole?
1 cup flour
1 teaspoon salt
1⁄2 teaspoon cayenne powder
3 cups vegetable oil
3 poblano chiles, roasted, peeled, seeds and stems removed, cut into 1⁄4-inch rings
1 cup buttermilk
Combine the flour, salt, pepper and cayenne and mix well. Transfer the mixture to a plate. Heat the oil in a large pan until it just begins to smoke, then lower the heat slightly.
Take the poblano rings 4 at a time, dip them in the flour, shake off any excess, then dip them in the buttermilk and back into the flour. Drop them into the hot oil and fry until lightly browned. Repeat with the rest of the rings and then drain on paper towels. Serve them warm.
Yield: 4 to 6 servings
Heat Scale: Mild
The following two tabs change content below.
Managing Editor | Mark is a freelance journalist based out of Los Angeles. He's our Do-It-Yourself specialist, and happily agrees to try pretty much every twisted project we come up with.
Latest posts by Mark Masker (see all)