Throughout the centuries, candy has been used as currency, as a peace offering (as many husbands out there already know), and as a seductive aphrodisiac…I'm talkin' to you, Cupid. February 14 is a perfect day to celebrate the glory of chile peppers when combined with chocolate, a pairing that takes both ingredients and elevates them to new heights of flavor.
The story of candy begins with honey, a main source of sweetness in much of the world. Even the folks from the Stone Age were known to raid a beehive or two looking for something a little sweet. And, of course, the Egyptians (never a people to miss out on anything good) were dipping nuts into honey by 1560 B.C.
Around 3000 B.C., sugar was made into sugarcane sap in India. Nougat was also discovered in India during this time. By 700 A.D., Arab countries were receiving this precious cargo by way of traders, along with the secrets of how to turn the sugarcane into sugar. Not long after that, cane shoots and the knowledge of what to do with them crossed the Mediterranean, and in short order, candy-making arrived in Italy and France.
In the Middle Ages, candy was only available to the very rich. However, by the fifteenth century it was more common, and the astrologer Nostradamus was so taken by the art of candy-making that he wrote a book, The French Confectioner, about the subject. Sugar became accessible to most people by the Renaissance. Columbus took sugarcane to the West Indies, where it quickly became a major crop to meet the growing demands of Europe. Penny candy was available in Europe by the seventeenth century.
When did chile peppers and chocolate first cross paths? The earliest archaeological evidence dated to A.D. 595, when chiles associated with cacao seeds were found in the Cerén archaeological site in El Salvador. Imagine the surprise of the researchers when they discovered painted ceramic storage vessels that contained large quantities of chile seeds with cacao. "One vessel had cacao seeds in the bottom, and chiles above, separated by a layer of cotton gauze," said the lead anthropologist, Dr. Payson Sheets. "It is possible that they would have been prepared into a kind of mole sauce." (Read the complete article on Cerén at http://www.fiery-foods.com/dave/ceren.asp)
Here we've shared a few delectable, fiery morsels to share with your beloved. Or, if beloveds are currently in short supply, there's no better way to forget your troubles than whipping up a batch of chocolate-chile delights and eating them yourself! For more Valentine's Day Sweet Heat ideas, read the article on the SuperSite here.
Double Trouble Chocolate Truffles
New Mexican red chile is the heat source in this tremendous treat. With the combination of baking chocolate and white chocolate, it's exceptionally wonderful to munch on. Try substituting 2 teaspoons of cayenne powder to heat the truffles up even more.
8 ounces baking chocolate
4 ounces white chocolate chips
2 tablespoons sugar (or more, to taste)
1 tablespoon ground New Mexican red chile (or more, to taste)
½ teaspoon ground cinnamon
1 14-ounce can light sweetened condensed milk
Finely chopped piñon nuts, or substitute coconut if preferred
Use a double boiler or fill a 3-quart saucepan three-quarters full with water, and heat until the water is almost boiling. Place both chocolates in a smaller saucepan, then melt them over the hot water, stirring until smooth. Add the sugar, red chile, cinnamon, and milk, mixing until very smooth. Remove the mixture from the heat and let it cool until it is shapeable. Shape the chocolate mixture into 1-inch balls, then roll them in the nuts (or coconut). Chill the candy in the refrigerator in an airtight tin.
Yield: About 4 dozen truffles
Heat Scale: Medium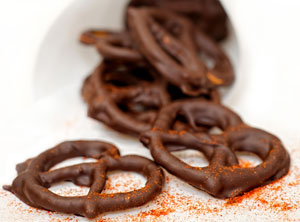 Chile-chocolate Pretzels
2 cups milk chocolate chips
2 teaspoon cayenne powder
2 tablespoons vegetable shortening
36 pretzels
In a microwave-safe bowl, combine the chocolate, cayenne powder, and vegetable shortening. Microwave on 50-percent power for 1 minute, then remove and stir. Continue this process in 10-second increments until the mixture is smooth and well-blended. Dip the pretzels into the chocolate one at a time, making certain to coat both sides. Place the coated pretzels on waxed paper and chill in the refrigerator until hard.
Yield: 36 pretzels
Heat Scale: Medium
Sexy Hot Chocolate Fruit Fondue
Fondue was very hip in the 160s, and I'm happy to report, in this age of retro everything, that fondue is making a comeback. If you're not quite ready to fork out the cash for a new fondue set, scout out a few thrift stores—you will undoubtedly find a fondue pot or two.
9 ounces white chocolate
1/4 teaspoon habanero powder
1/2 cup whipping cream
2 tablespoons Grand Marnier
Assorted fruits of your choice (such as fresh pineapple, banana, papaya, mango, orange, kiwifruit), cut into bite-sized pieces
Place chocolate in a microwave-safe dish and microwave on 50-percent power for 1 minute. Remove and stir, continuing the process in 10-second increments until the chocolate is melted and smooth. When the chocolate is melted, stir in the habanero powder, cream, and Grand Marnier. Place the mixture in the fondue pot, or in a chafing dish to keep warm. Dip your favorite fruits into the chocolate and enjoy!
Yield: about 2 cups
Heat scale: Hot
The following two tabs change content below.
Lois Manno
Lois is the Editorial Director of the Burn! Blog and the Fiery Foods & BBQ SuperSite.
Latest posts by Lois Manno (see all)